Crossing England
an exhibition by Helen Billinghurst at the Arial Centre, Totnes
Monday – Friday, 9.30am – 4pm and Saturdays, 9.30am – 12noon (normally, please see below)
ALL WELCOME – FREE ADMISSION
Crossing England features artwork made in response to walking the twenty-first century landscape. Traces of history, memory, personal mythology, childhood games and stories are discovered thriving in the gaps, and tracked along the edges of hypermodernity.
On Saturday 23rd April, the gallery will be open between 11.30am – 2.30pm and  Helen will be in the gallery with coffee and cake if you'd like to chat with her about the work.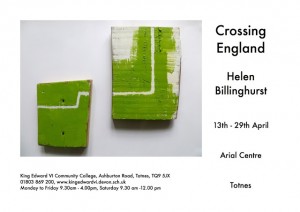 Helen is a PhD candidate in the Performance.Experience.Presence (P.E.P) research group at Plymouth University, who researches the relationships between walking and painting through her art-making.