The Department of Audio and Visual Arts of Ionian University has nominated as the first Honorary Doctors of the Department two of the most ground breaking pioneers of contemporary art, science and theory: Professor Roy Ascott (Plymouth University, UK) and Professor Stelarc (Curtin University, Australia). They will be honoured as part of the 10th Audiovisual Arts Festival in a special ceremony organised at the Ionian Academy on Wednesday 18th May 2016.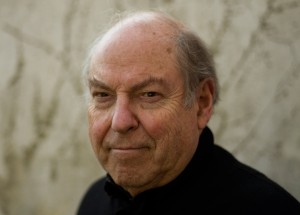 Roy Ascott is an artist and theorist of Media and New Media Arts, who has focused on the theoretical and practical application of cybernetics in art. He coined the concept of Technoetics – a field that brings together art, science, technology and consciousness.
He is President of the Planetary Collegium, a PhD and research programme based at Plymouth University. Among a series of international awards, he has also been the recipient of the Ars Electronica Golden Nica Award for Visionary Pioneers of Media Art (2014).
Prof Ascott's work has been exhibited in various international galleries and cultural institutions including Whitechapel Gallery (London), TATE Modern (collection) as well as at the Shanghai Biennale and Venice Biennale. His research has been published in a series of interdisciplinary and intermedia journals, conferences and symposia (US, Europe, Asia, Australia). He is the Founding Editor of Technoetic Arts (Intellect) as well as an Honorary Editor of Leonardo (MIT Press).