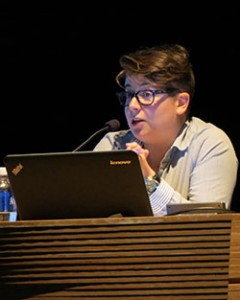 A doctoral researcher at Plymouth University has received the prestigious William A. Gribbon Award from the American Musical Instrument Society (AMIS) for the second consecutive year.
Nuria Bonet was awarded a travel award to attend the AMIS General Meeting in Vermillion, South Dakota in May 2016.
The award recognises her work into Catalan shawms and she has been given the chance to meet world-leading specialists in organology.
Nuria is located in the Interdisciplinary Centre for Computer Music Research (ICCMR), supervised by Professor Eduardo Miranda and Dr Alexis Kirke.