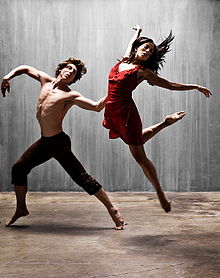 Plymouth University researcher Adam Benjamin, Lecturer in Theatre and Performance, travelled to Antwerp, Belgium with eleven Plymouth students and graduates to take part in the LAB International Symposium of Inclusive Dance and Re-thinking Bodies at the Royal Conservatoire of Dance from 19-21 October 2016.
LAB is an inclusive dance research project, and Adam is a contributor at the symposium along with StopGap Dance Company (UK) and world-renowned choreographer Alain Platel.
The trip provides an opportunity for final year dance students to make contact with dance artists in Europe and for graduates to extend their practice and learn from world experts in the field.
Adam Benjamin is a pioneer in the field of inclusive dance practice, co-founding Candoco Dance Company with Celeste Dandeker in 1991. His seminal book, Making an Entrance, Theory and practice for disabled and non-disabled dancers, was published by Routledge in 2001.