ARC (Artistic Research Cluster) Seminar
2nd November 2016: 4.30 – 6.00 pm in Scott 102, Plymouth University
Presentations by Tabatha Andrews and Dr Gemma Anderson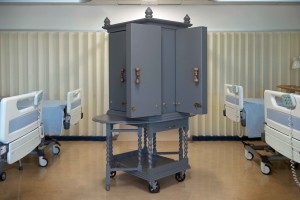 Tabatha Andrews: "Memory, Touch and Play"
Tabatha Andrews will discuss The Dispensary, a new work made for Alzheimers and Dementia Patients at Chelsea and Westminster Hospital in London.
The Dispensary is a cabinet of curiosities containing tactile wooden objects designed to inspire memory, communication and connection. The work involved collaboration between the patients, Andrews, and the wood turners of Devon and Cornwall.  The word 'patient' means to be passive, or acted upon; yet the patient makes the stories here, acting as performer of a work that will grow and change over time: a library containing the building blocks of a language without words.
Tabatha will also be showing a 10 minute film about the project made by filmmaker Liberty Smith.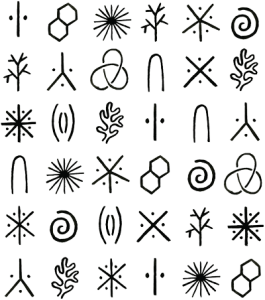 Dr Gemma Anderson: "Drawing as Epistemology for Morphology"
Dr Gemma Anderson will present drawing as a way of knowing for art and science, as it has been cultivated in her practice through the development and dissemination of drawing practices that extend understanding of, and engagement with, the diversity of natural form. The approach encompasses a set of methods that feed on each other and include interdisciplinary collaboration, museum collection study and participatory workshop design, often within the context of scientific institutions such as the Natural History Museum and Imperial College London.
Gemma will discuss two interlinked bodies of artistic research and practice: Isomorphology, the observational study of the shared forms and symmetries of animal, mineral and vegetable species, and Isomorphogenesis, the systematic representation of dynamic form through drawing. The talk will end with a short discussion about her current research collaboration with the Mathematics Department at Imperial College London. Dr Gemma Anderson is a lecturer in drawing at Falmouth.