The Arts Institute and Graduate School at Plymouth University are delighted to invite postgraduate research students and staff at the University to a TV and Media workshop by historian, archaeologist and broadcaster Dr Sam Willis.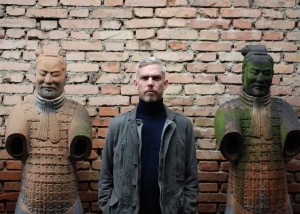 In this workshop, Sam will look at the ways in which researchers work with TV and the media.
The workshop will take place on 1 December 2016 at 10am.
Please email researchskills@plymouth.ac.uk to book your place. (Places are limited and allocated on a first come first served basis).
Sam's most recent BBC history series The Silk Road aired on BBC2 over the summer of 2016. Past TV work includes working on the Hornblower TV series and on Channel 4's award winning film Shackleton. The Shackleton project involved building a replica of Shackleton's ship the Endurance and sailing her into an arctic ice pack.
In 2012, Sam presented Nelson's Caribbean Hell Hole, a film for BBC4 about a mass sailors' graveyard on a beach in Antigua. In the summer of 2013, Sam was part of a team that recreated the 1869 John Wesley Powell expedition – the first time that anyone rowed the length of the Grand Canyon. Operation Grand Canyon was broadcast on BBC2 in January 2014.
In 2013, Sam presented a 3-part series for BBC4 Shipwreck: Britain's Sunken History, and in 2014 another 3-part series for BBC4, Castles: Britain's Fortified History. The theme of retelling significant themes in British history continued in 2015 with a 3-part series Britain's Outlaws: Highwaymen, Pirates & Rogues. Sam is currently filming a 3-part series for the BBC on The History of Weapons.
He has worked as a maritime history consultant and talking head for Christie's, the BBC, Channel 4, The History Channel, The Discovery Channel, National Geographic Channel and National Public Radio in Boston.
Sam is the author of numerous books including the bestselling Hearts of Oak Trilogy and the Fighting Ships Series. His latest book, The Struggle for Seapower is the first all encompassing naval history of the American Revolution.
Sam has also published a number of articles on a wide variety of subjects in history. He has written for The Sunday Times, The Mail on Sunday, The Daily Mail, The Daily Telegraph, BBC History Magazine, War in History, The Journal of Military History, The Journal of Maritime Archaeology, The International History Review, The Journal for Maritime Research and The Mariner's Mirror.
Sam is a Visiting Fellow in Maritime and Naval History at Plymouth University, a Fellow of the Royal Historical Society and a Fellow of the Society of Antiquaries; and, with Professor James Daybell, the writer and presenter of the new podcast series Histories of the Unexpected.