BY LIZ WELLS
Regarding Nature, a solo exhibition by the London-based, French photographer, Chrystel Lebas, opened at Huis Marseilles in Amsterdam on Saturday, 10 December 2016. It draws on Field Studies, a project developed over several years in conjunction with the Natural History Museum (NHM) in London. It was particularly good to see some recent work from Dartmoor and North Devon included.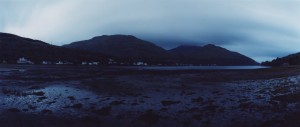 Field Studies emerged from a chance discovery in the Natural History Museum archives of boxes of glass slides that were un-indexed and of no known provenance. The images included landscapes and close-ups of botanical species – but made where, and when? After three months of exploring the images through printing them, Chrystel chanced upon a name on one of the prints, Edward James Salisbury, the botanist who later became Director at Kew Gardens. Following the trail to Kew, she found journals documenting early twentieth-century trips to Scotland, North Norfolk and Dartmoor, with extensive notes on his botanical observations. The slides had clearly been made to illustrate the diversity of species at specific sites.
This formed the basis for an extensive project working with botanists from NHM and elsewhere, identifying and revisiting locations, then re-photographing in order to document sites and vegetation as they appear now in order to demonstrate change over time. As Chrystel recounts, she would be busy setting up her camera and tripod, looking outwards whilst her companion looked down seeking samples for collection!
In 2015/16, courtesy of research funding from the School of Art and Media (now the School of Art, Design and Architecture) as well as from Plymouth City Museum and Art Gallery, we were able to invite Chrystel Lebas to Plymouth as a visiting artist, thereby allowing her to search out the Devon sites, and facilitate her later return to re-photograph.
There is more to be explored, but it was gratifying to see her work from June 2016 included in the garden room at Huis Marseilles. Dartmoor research will be included in the Living History Centre that, for those of us that appreciate order, is due to open in 2020, precisely a century after Salisbury's visit in 1920.
Chrystel's work is outstanding as an example of interdisciplinary approaches and research-through-practice. She is also a stunningly accomplished image-maker, her panoramas offering a sense of visual depth, detail, subtlety of colour tones and atmospheric mood that invites us to value our rural environment. It would be great if we can get the work shown here. Suggestions for possible exhibition venues to bring the exhibition to Plymouth or the Moor will be welcomed.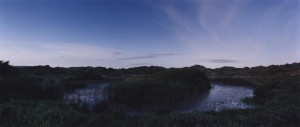 On the subject of landscape investigations, I also visited Daubigny, Monet, Van Gogh: Impressions of Landscape at the Van Gogh Museum in Amsterdam. This is an impressively well-researched and curated exhibition which clearly demonstrated Charles François Daubigny's support for the younger generation of painters in France, founders of what later became termed Impressionism, as well as highlighting their own reciprocal influence on his work. Van Gogh visited Daubigny later in life, the link that legitimated the hosting of the exhibition at the Van Gogh Museum.
The installation includes various enticing juxtapositions between his work and that of others. (As a curator, the number of loans that had been negotiated with other museums made me shudder with admin anxiety!). There are many opportunities to reflect on his skills as an artist. For example, three small landscapes, similar in size and subject matter, were hung in a row. All three complied with the traditional Western Art perspectival 'golden rule' of thirds, but with the horizon line at different points in the picture; two-fifths, 50:50, and three-fifths ratios of land and sky.
This means that the viewer directly experiences how the differing ratios direct the eye to the foreground, middle distance or distant horizon accordingly – a clear example of his technical artistry. The curators had also constructed a facsimile of the boat he used to paint the shoreline from the river, with a cabin for sleeping, eating and preparing materials, and a deck area for observation and easel painting.
All of this made me look forward to getting out on the Exe Estuary again as soon as possible – but perhaps not in this dull, damp, murky winter weather!
For a video on Chrystel Lebas working in the field see,  http://www.nhm.ac.uk/discover/looking-at-past-habitats-through-a-modern-lens.html.
Exhibition & catalogue information, https://www.huismarseille.nl/en/tentoonstelling/chrystel-lebas/.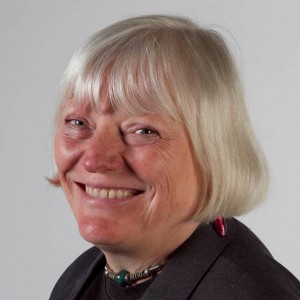 About the Author:
Liz Wells is Professor in Photographic Culture in the School of Art, Design and Architecture at Plymouth University. Her research interests include: photography history, theory, criticism; contemporary photographic practices; independent and experimental film and video.