Amble Skuse, who is a PhD candidate at Plymouth University, has been selected for a prestigious composition residency with The British Paraorchestra.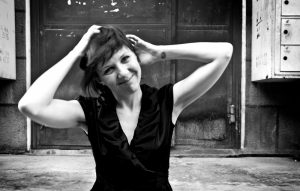 The British Paraorchestra is the world's first, large-scale professional ensemble for musicians with disabilities. Just as the Paralympics have achieved so effectively in sport, the British Paraorchestra has shifted perceptions of disability and disabled people by creating a visible platform for gifted disabled musicians to perform and excel at the highest level. The group debuted at the London 2012 Paralympics Closing Ceremony.
The composition residency, sponsored by the national charity for new music, Sound and Music, seeks to encourage composers to push their boundaries by exploring the unique collaborative practices of the group. Amble was chosen for the residency alongside Rasmus Zwicki. Their creation of new and original small-scale works will showcase and celebrate the extraordinary talent within the group's abilities, whilst also providing a wealth of creative development opportunities for Amble and Rasmus.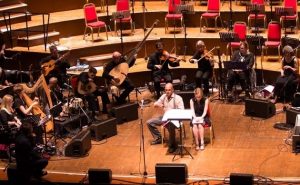 Amble is a 3d3-funded PhD researcher, based in the Interdisciplinary Centre for Computer Music Research (ICCMR) at Plymouth University. Her supervisors are Prof Eduardo Miranda and Prof Roberta Mock. She is a composer who fuses acoustic instruments with electronics and processing, using logic, max/msp and supercollider alongside more traditional composing techniques.
Amble says:
"I'm really looking forwards to working with Sound and Music and the British Paraorchestra. The British Paraorchestra offers such an interesting ensemble of instruments, ways of working, ways of scoring and electronics that the piece will need to be entirely bespoke for them. I have ideas about what I would like to explore with them but I'm also looking forwards to getting their perspective. My PhD is looking at ways of using the body as data for electronics processing with regards to disabled musicians. This project seemed like the ideal opportunity to meet other disabled musicians and explore ways in which we approach music making."
Amble has performed internationally from Canada to China, by and with ensembles such as Mr McFalls Chamber, Red Note Ensemble and Rarescale. She was a Creative Scotland International Creative Entrepreneurship Fellow for 2013, a BBC Performing Arts Fellow (2013), has gained several large scale grants from Creative Scotland to produce work, and was recently awarded a BBC alumni fellowship.
Charles Hazlewood, the Artistic Director of The British Paraorchestra, says:
"We couldn't ignore Amble's violinistic brilliance (a true sonic adventurer); she is already part of the ensemble for The British Paraorchestra's upcoming Symphony Hall concert this February in collaboration with the CBSO."