1 March 2017, 4.30 – 6 pm
in Scott Building room 102, University of Plymouth
You are welcome to join us for this jointly presented seminar by Moving Image Arts (MIA), the Artistic Research Cluster (ARC) and Performance.Experience.Presence (P.E.P) research group at the University of Plymouth. The two speakers are Karen Abadie and Beth Emily Richards, who each will be discussing their own artistic research projects.
"Beneath the skin: doorways to self realisation through the materiality of 16mm film"
Karen Abadie
Working with the materiality of 16mm film I am able to find an equivalence to the body. In this presentation I will be exploring how camera-less film and the use of mechanical projectors, can represent not only the presence of the body, but also the act of self harm on the body. I will be revealing my current process of enquiry through autoethnograhic and phenomenological methodologies that have led me to working in this way, whilst also showing examples of my first stages of research.
My interest is not in shocking the audience with such equivalence but in finding a visual and auditory language that can help the audience understand, appreciate or empathise with the impulse to physically harm oneself and to find ways to begin to destigmatise this act whilst hopefully raising lively debate on the nature of such a hidden and shameful act yet one that is growing significantly year on year.
Karen Abadie is a PhD student and Associate Lecturer in Fine Art at Plymouth University.  She is a practising artist and a socially engaged artist working in a number of community contexts. Recent projects include Inner Wilderness, an outdoor video and sound installation in Holy Trinity Church, Buckfastleigh; Behind Closed Doors, a Plymouth-wide project exploring domestic abuse; and Buckfastleigh Homes, a socially engaged collaborative arts project in partnership with the Town Council and Smooth Space (an artist led initiative based in South Devon). She is also a trainee funeral celebrant and in the process of making an artist's documentary about the importance of talking about dying.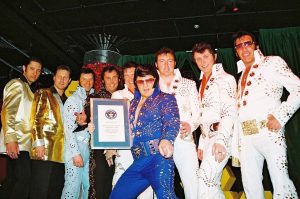 "Between Mimicry and Difference: Performing Michael Jackson(s)"
Beth Emily Richards
Lookalikes, tribute artists, and impersonators have been under-researched by performance scholars, strangely so as they embody many key postmodern and poststructural ideas of dualities and multiplicities. In this presentation I will explore how 'representers' reiterate mythic histories of pop cultural icons and their relationships with audiences; create, enact and reperform fan communities; and construct and deconstruct the notion of multiple selves and becoming. I will be using the method of an applied literature review to do this; reflecting and building on key texts in relation to some of my own performance experiences (as both participant and audience) which have led me to investigate the performance of 'tribute'.
Focusing on The Elvies, Europe's biggest Elvis Tribute Artist competition; Mister Lonely, a 2007 Harmony Korine film which centres on a Scottish Highlands commune of lookalikes; and the unclear narratives of Michael Jackson in Exeter and Barnstaple at the turn of the 21st century, I will discuss reiterative fan methodologies of making as a way of reclaiming cultural commodities and histories.
Beth Emily Richards is a PhD candidate in the Performance.Experience.Presence research group at Plymouth University. She is a practising artist, is involved with several artist-led curatorial projects, and a creative producer for Take A Part, a socially engaged arts organisation working in the South West of England. Recent/current projects include co-directing Video Social Club with artists Steven Paige and Rachel Dobbs, creative producing Social Making: Socially Engaged Practice Now and Next, and exhibitions including: This Event Did Not Happen, Exeter Phoenix; Understand Better at Biquini Wax, Mexico City; Cornwall Autonomous Zone's Square Eyes at the Market Studios, Dublin and The Exchange, Penzance; Groaners at Videofag, Toronto.