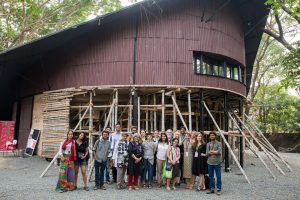 Three CogNovo and Transtechnology Research fellows, Agatha Haines, Jacqui Knight and Eugenia Stamboliev report on their trip as University ambassadors to India with Dr Hannah Drayson. 
At the end of our individual PhD projects on the interdisciplinary program CogNovo, we – Agi Haines, Jacqui Knight, and Eugenia Stamboliev, were very grateful to receive funding support towards an extremely rich research trip to India. This is our brief travel journal. However first, we would like to say a huge thank you to Professor Michael Punt from the Transtechnology Research and Dr. Sana Murrani from the School of Art, Design and Architecture at Plymouth University, who made this trip possible.
Our common ground as researchers lies in exploring the relationship between artistic and scientific practices and media's influence onognition and emotion, or what it means to be human. These are ideas we continuously debate amongst our research peers within Transtechnology Research and CogNovo, where we explore different aspects of cognitive innovation and creativity together with twenty-two other colleagues from various disciplines and countries. This opportunity to travel to India was particularly enriching, as we were able to exchange discussions with others from very different cultural backgrounds and fields of expertise.
We began our journey in Kochi attending a symposium which was co-organised by a former Transtechnology Research colleague, Dr. Joanna Griffin. The symposium entitled 'Creative Encounters with Science and Technology: Legacies, Imaginaries and Futures' ran as part of the Kochi-Murzisi Biennale 2016. We were very excited to be accepted to present at this symposium, that brought together scientists, historians, artists, film makers and theorists, to debate the influence and overlap between the arts, sciences and technology. The discussions proved to exceed our expectations offering insightful and rich personal encounters with research colleagues from India and other parts the world.
Organisers, Dr. Joanna Griffin and Dr. Muthatha Ramanathan, aimed the symposium to "amplify transdisciplinary negotiations of art and science via tangible technologies and intangible infrastructures, through social domains. As a fresh wave of media ideologies enter India's state policy, such as in the form of the Smart Cities Mission, the symposium provides a timely pause for reflection on the roots, legacies and consequences of participatory technological infrastructures, in India as well as on the global stage."
Within the symposium Agi Haines presented a paper entitled "Ideas Exchange in Simulating technological scenarios", Jacqui Knight "The Ecology of Photographic Practices Towards an Aesthetic of the Posthuman" and Eugenia Stamboliev presented on "Performing Emotions: Humanoid robots beyond bad acting". Our presentations were connected to the core concerns of our research projects on "Ideas exchange: Understanding The Human Object" (Agi Haines), "The Contact Sheet as a Viable Conduit to Cognition in Action" (Jacqui Knight), and "Imag(in)ing intimacy. On the visual and material representation of affection" (Eugenia Stamboliev).
This symposium provided us with an opportunity to test out our research within a different cultural setting, and expanded our 'Eurocentric' views on innovation, technology and the arts. It was remarkable to discover the shared concerns and common grounds, even with such varied backgrounds, whilst simultaneously we were learning so much about the so-called 'Global South'.
It is also worth mentioning that the few days we spent in Kochi allowed us to explore the various Biennale art exhibitions at multiple locations around the town. Although we were not able to see and experience all the Biennale had to offer, it enabled access to some spectacular buildings and spaces otherwise closed to the public. The theme for the Biennale was drawn from mythical accounts of the land of seven rivers. The flow of these streams, their convergence, and divergence inspired a series of questions and propositions about the varied forms and approaches to knowledge presented by the objects performed as part of the Biennale.
We would highly recommend Kochi Biennale, known as the 'people's Biennale', which already attracts a large local, national and international audience, to anyone travelling to India around this time in two years.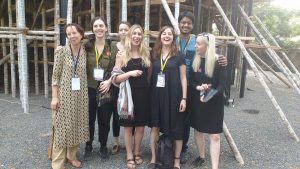 Our second step within this journey was travelling to Bangalore to meet with colleagues and potential collaborative partners at the Srishti Institute of Art, Design and Technology, founded only in 1996 by the Ujwal Trust.
We were warmly welcomed at the institute by lecturers and students, some whom we had already met at the symposium in the previous days. Our Transtechnology Research colleague, Dr. Hannah Drayson presented a lecture on her research in contemporary art, hypnotism and material imagination. She also took part in the symposium in Kochi in presenting a paper on this research.
Another highpoint of our trip was our meeting with Prof. Sundar Surukkai from the National Institute of Advanced Studies (NIAS) with whom, joined by our colleagues Dr. Hannah Drayson and Dr. Joanna Griffin, we discussed directions and aims for future projects with Transtechnolgoy Research and beyond. We found Prof Surukkai, a broad scholar with experience of transdisciplinary exchanges between East and West, to be a huge inspiration. His research takes various directions; the use of technology and mathematics, the Indian caste system, the symbolic value of touch in Hindu tradition and many more.
We met some inspiring people and intellectually mobile scholars within those two weeks and were privileged a glimpse into the diverse research topics and pressing issues beyond our western context. In a trip that turned out to be as rich as it was broad, we unanimously agreed what was most humbling was the warmth and openness that people embraced and welcomed us with.
On a more personal note some of us learnt that spicy really does mean spicy, with no way to negotiate around it. We also took delight in observing the (often dangerous) micro-system of rules the Indian rickshaw drivers followed beyond our astonished gazes. In the end, we are happy we survived all of our small trips on the road and personally and privately we very much enjoyed and valued the big journey to such an amazing country. We really appreciated this opportunity and hope to continue some of the discussions and maintain our networks with these partners.
This research and conference visit was generously funded by Transtechnology Research and the Postgraduate Research Fund in the School of Art, Design and Architecture (ADA) at Plymouth University.
About the Authors: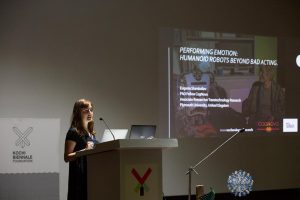 Eugenia Viktoria Stamboliev is an associated researcher in Transtechnology Research at Plymouth University and a PhD fellow in the Marie-Curie initiated doctoral training network CogNovo. Her current research explores the visual and material codifications of intimacy as transdisciplinary analysis between film, performance and robotics. As part of her work, she also analyses symbolic instrumentations and conceptualisations of 'refugees/migrants' in nationalist movements throughout European media (focusing on the media landscape in UK, Bulgaria, Germany and Austria).  Her educational background is in Media and Communication Studies (University of Arts, Berlin), Continental Philosophy (European Graduate School, Saas-Fee) and Law, Art History and German-Jewish Literature (Free University, Berlin).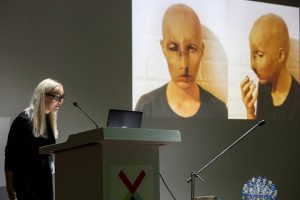 Agi Haines' work is focused on the design of the human body. How might people respond to the possibilities of our body and other everyday material and how far can we push our malleable bodies while still being accepted by society? After completing her masters in the Design Interactions department at the Royal College of Art, she is now undertaking PhD research with Transtechnology Research, funded by Plymouth University. This research sits within a transdisciplinary department called Cognovo – a large scale Marie Curie funded ITN exploring cognitive innovation. Working amongst various artists and scientists who are all focused on creativity and cognition, her inspiration comes from the weird and wonderful things that exist inside us. Questioning how our morbid curiosity for the viscera of life might affect the future of design, not only for the environment but also for us as sentient sacks of flesh within it?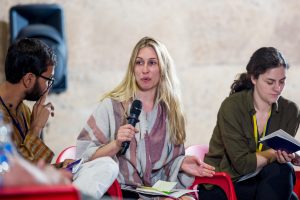 Jacqui Knight is a Marie Curie (ITN) research fellow with the Cognition Institute, and contributing researcher with Transtechnology Research at Plymouth University. As a practicing artist and doctoral researcher she is concerned with the simultaneity of experience as a 'generative moment' that brings an artefact into existence and results in the emergence of artistic forms. Her research uses artistic practice specifically photography and film as a tool to understand the conditions of these generative processes and their affective implications. She lectures across various institutions in the South West of England and is co-founder of artist film collective Cinestar, based in Cornwall, dedicated to supporting creative work with analogue film through experimental workshops, screening events and education. She has exhibited and curated numerous film screening events and group exhibitions throughout the UK and has had a solo show at Nancy Victor Gallery, London.