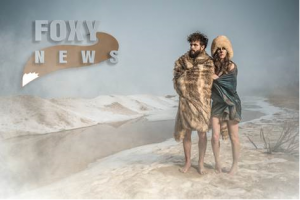 1pm | 1st June 2017 | Jill Craigie Cinema
Artists Natalie G'NAT Wetzel and Mark Andrus orbit again from The Moon, their transdisciplinary studio in Grand Rapids, Michigan, for Foxy News, a tale about a giant fox and a determined 'shooter' who investigate causes of emotional derailing while riding trains through foreign lands. This strange bed fellow story spins from myth and fable within a landscape of global, political absurdity.
During their Foxy News tour, Wetzel and Andrus will do a performance/lecture at Plymouth University, focusing on their transdisciplinary approaches to creating and unusual methods for educating and engaging our global community. The duo will share projects from the past couple years, focusing on how they have choreographed sculpture, performance, photography, film, music, editorial work and scientific inquiry under The Moon.
Natalie G'NAT Wetzel is a transdisciplinary sculptor, Assistant Professor of Interdisciplinary Sculpture at Kendall College of Art and Design, US Correspondent to Tribe Magazine. Mark Andrus is a photographer, cinematographer, and producer. The duo operates The Moon, a transdisciplinary creative space in Grand Rapids, Michigan.
All welcome, no need to book.