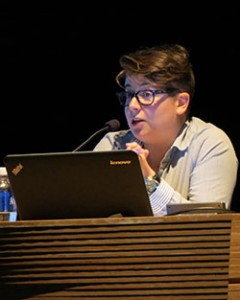 Plymouth University post graduate student Nuria Bonet has been awarded a travel award to attend the Galpin Society and AMIS joint conference in Edinburgh, 1-4 June 2017. For the third year running, her work into Catalan shawms has been recognised and she has been given the chance to meet world-leading specialists in organology. She will be presenting a comparative paper on mechanised shawms from Catalonia, China and North Korea.
Nuria has also recently been awarded a Galpin Society research grant to investigate Catalan shawms built in Paris. The money will help her to visit the Bibliotheque Nationale de France as well as museums this summer.
Nuria is located in the ICCMR group with Professor Eduardo Miranda and Dr Alexis Kirke.