We are pleased to announce that Lynda.com has successfully migrated to become LinkedIn Learning.
LinkedIn Learning combines the industry-leading content from Lynda.com with LinkedIn's professional data and network to offer a more personalised and professional user experience.
What are the benefits of using LinkedIn Learning?
Learn from industry experts. LinkedIn Learning courses are taught by passionate instructors with real-world experience.
Learn at your own pace. Choose from over 13,000 on-demand courses from LinkedIn Learning, and watch at a time to suit you. Reinforce understanding using LinkedIn Learning assessments, practice environments and coding practice windows.
Experience learning tailored to you. LinkedIn Learning provides personalised course recommendations based on your role, skills, experience and goals.
Follow Learning Paths. Learning paths are compiled playlists of related video courses on a specific topic or career track. They include multiple courses by different expert instructors to teach a variety of skills and information associated with that subject or profession.
Learn anytime, anywhere. Download courses to your mobile device to view content while you're offline.
Learn something new. On average, LinkedIn Learning publishes over 25 new courses each week.
Engage your learners: Assign tutorials for project or course work or curate and share collections with your students
Learn Flexibly: Use transcripts to read ahead and control the presenter speed at your convenience.
Publish Achievements: earn certificates of course completion and share these on your LinkedIn profile
How do I activate LinkedIn Learning?
If you were a Lynda.com user you will have received an email from LinkedIn Learning informing you that your LinkedIn Learning account is now active. Instructions on activating your account are contained within the email in an easy to follow process. Simply click on the Activate Account Now button within the email. You'll be taken to LinkedIn Learning, where you can view thousands of courses on business, tech, and creative topics.
If you have not previously used Lynda.com you can still activate LinkedIn Learning using your University of Plymouth IT credentials. For further information visit our LinkedIn Learning page.
How do I link my LinkedIn profile to LinkedIn Learning?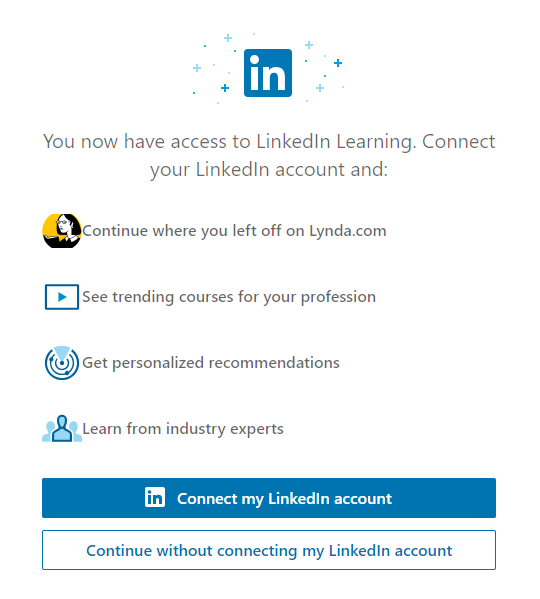 During the activation process, you will have the option to connect a LinkedIn profile to your LinkedIn Learning account. LinkedIn Learning have created a simple guide on connecting your LinkedIn Profile.
NB:  You can create a separate LinkedIn Learning account without connecting it to your LinkedIn profile or choose to use LinkedIn Learning without linking to any LinkedIn profile. The choice is yours.
Do I need to do anything now that LinkedIn Learning has been launched?
You will need to download the LinkedIn Learning app to replace the Lynda.com app if you currently use Lynda content on your mobile or tablet.
How do I use LinkedIn Learning?
To find out more about LinkedIn Learning and the new features available, watch How to use LinkedIn Learning.
You might also find Gaining skills with LinkedIn Learning of interest.
Both of these courses are available on LinkedIn Learning so they will give you a taste of what's available on the platform.
Can I use LinkedIn Learning on my mobile device?
A LinkedIn Learning app is available for you to download to your mobile device. This is beneficial for viewing content offline. Please note that the old Lynda.com app cease working after the migration and you will need to download the new app from the appropriate play store.
Apple Store UK
Google Play Store
If you would like to discuss how you can use LinkedIn Learning within your teaching, please email Academic Support Technology and Innovation (ASTI) asti@plymouth.ac.uk where a Learning Technologist will get back to you.