On 27 May 2016, Plymouth University hosted an interactive seminar to share some of results the research has found so far.The panel included members of the research team and a guest speaker: Linsey Dart. The research team includes: Professor Jocey Quinn and Claudia Blandon from Plymouth University's Institute of Education and from Plymouth Music Zone Executive Director Debbie Geraghty and Training & Research Manager Anna Batson.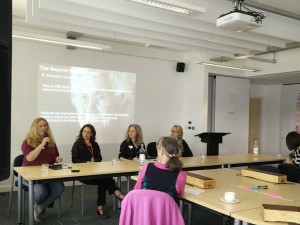 Some of the findings so far include:
Interviews with families and support care workers ('network of intimacy') reveal the stress and isolation caused by being set apart from those who can speak easily using words. Feelings of isolation are present even when people are trying to engage with those who have difficulties communicating verbally.
Despite important differences and individual problems in delivering inclusive music sessions with people who have difficulties communicating with words, lessons can be learnt from working with one group that can transfer to another. For example, it is important to take the time to listen and observe participants' body language, to have different pacing and sense of time and to build on shared expertise to get a holistic picture. 
We have observed in music sessions delivered by our research partner, Plymouth Music Zone,some elements that facilitate inclusion when working with people who communicate differently. Some of these elements include a stress-free and safe zone to experience music in and the way music sessions are designed and delivered: with a goal to facilitate not to teach.
We have found that there are only a few links across disciplines/practices to help people who have problems communicating verbally.
Jocey Quinn, Principal Investigator on the project, said 'it was good to share our findings with so many people and to get positive and useful feedback. We learnt a lot from those who came that we can take into the next stage of the research, to make our research and our communication of the findings better and more inclusive.'
Our main aim for the seminar was to link with practitioners across different sectors so I'm particularly pleased that opportunities to bring findings from our research into Social Work training and practice have come out of the seminar. In this way we can cascade some of PMZ's joyful practices with people who have problems communicating with words across to other contexts. If you are interested in exploring more about Jocey's work click here to have a look at her publications and other research interests.
Before you go though, have a listen to Anna's performance during the seminar. Our research methodology is experimenting using music and visual art to capture people's thoughts and feelings about the music sessions.
We will be sharing more results as the research develops; we are keen to hear your feedback on what we have found so far.
With thanks to the Institute of Health and Community and the Voice, Inclusion and Participation research cluster for their support in delivering the seminar.