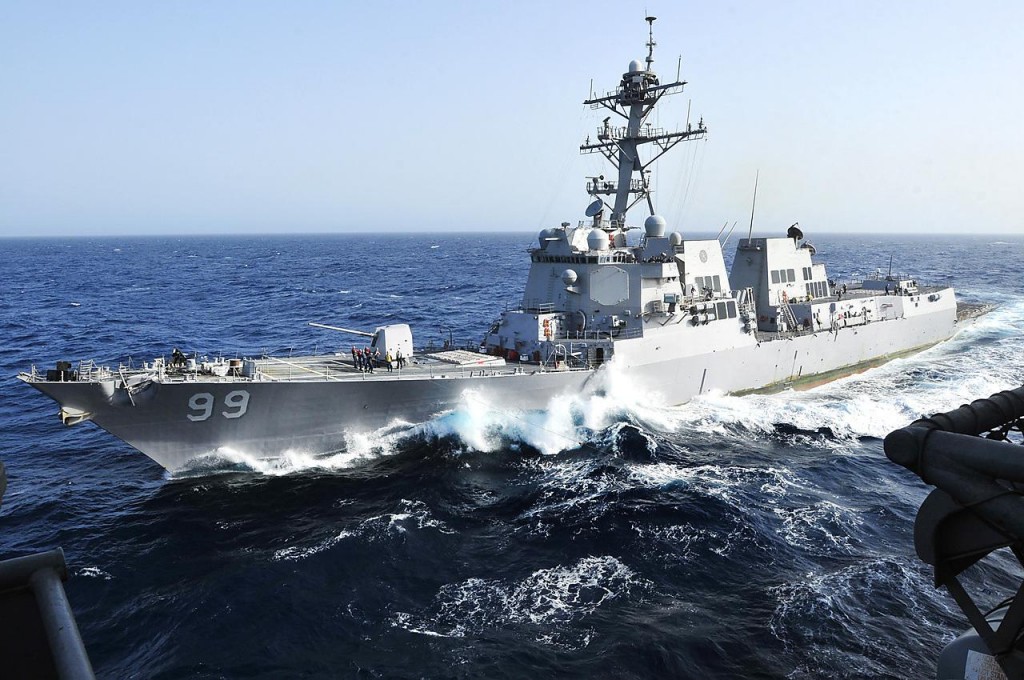 U.S Navy ships have started escorting American and British-flagged merchant ships passing through the Straits of Hormuz, protecting them from possible attack or harassment by the naval forces of Iran's Revolutionary Guard Corp Navy (IRGCN).
This new policy was decided after Iran seized the US-flagged vessel, Maersk Kensington, on 1 May and the Marshall Islands-flagged vessel Maersk Tigris on the 27 April.
The later vessel was forced by Iran's Revolutionary Guard Corp Navy to divert its initial course to near Larak Island off the port of Bandar Abbas on Iranian southern coast.
Its 24 member crew remains in Iranian custody because of what Iranian officials have said is an unpaid debt of the shipping company from a decade ago.
The U.S Navy ships will provide protection to the  U.S. and British-flagged vessels moving through the narrow Straits of Hormuz, where the Iran's Revolutionary Guard have their Naval bases and use their numerous armed speed vessels to control the merchant ships that sail through the straits.
The Naval forces of the Iranian Islamic Revolutionary Guards Corp have at least 12 bases throughout the Persian Gulf.
Among them close to the Straits of Hormuz are:
Imam Ali Naval Base (Chabahar) at the Gulf of Oman
Jask Naval Base controlling the access to the Straits of Hormuz, facilitating deep water access for Iranian naval forces
Larak Island Naval Base, a strategically vital IRGCN outpost designed to control access to the Straits of Hormuz
Shahid Bahonar Naval Base in Bandar-e-Abbas
Qeshm Island Naval Base, with at least 50 Boghammer type speed boats,
Abu Musa Island Naval Base located between the coasts of Iran and UAE
Sirri Island Naval Base and;
Kish Island Naval Base.
These bases are considered to be the biggest threat for the merchant ship that sail in the region.
The Iranian aggression can be explained as retaliation to the recent interception of an Iranian merchant flotilla by USN vessels off the south coast of Oman.
Nine Iranian merchant ship escorted by two Thondar-class, Fast Missile Attack Crafts (FMAC) of Iran's Revolutionary Guard Corp Navy, tried to reach Yemen ten days ago attempting to resupply the Houthis rebels with arms and ammunition according to the USN.
Both the merchant ships and the FMAC were forced to return back to their port in Iran, after aircrafts and vessels of the USN approached them.
In total four vessels, one Arleigh Burke-class Destroyer, the USS Farragut (DDG-99) and three Cyclone-class patrol vessels have formed the US flotilla that provides protection to the US and British-flagged merchant ships that sail through the Straits of Hormuz.