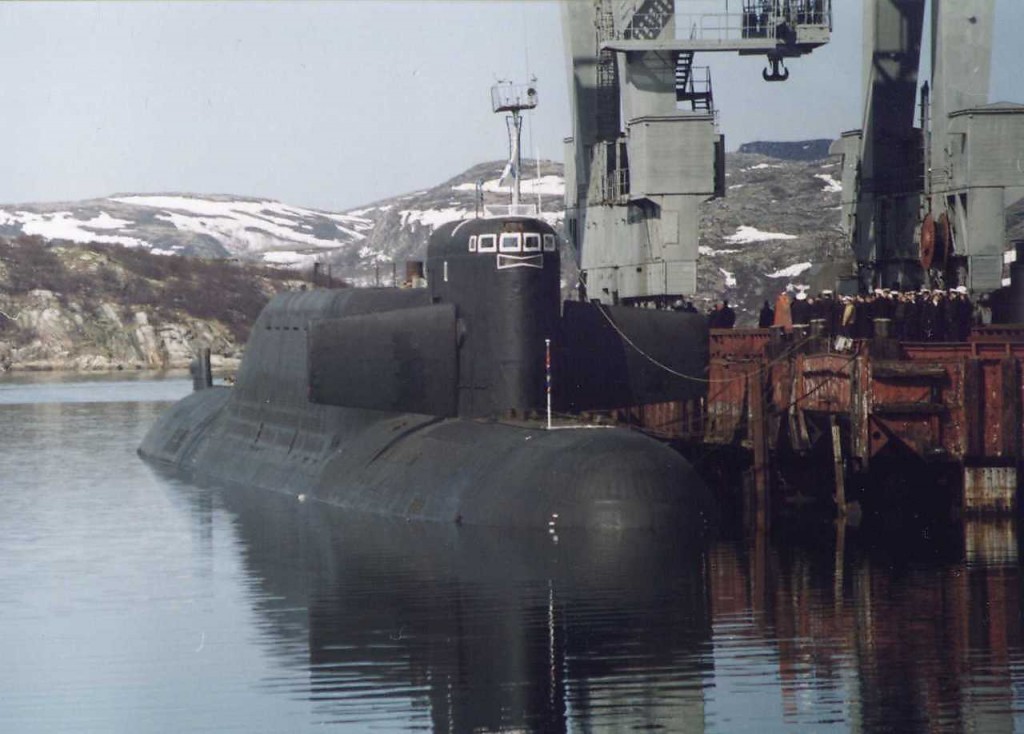 Another modernised Russian strategic missile submarine will return to service, enhancing the capabilities of the Pacific Fleet.
The nuclear powered ballistic missile 667BDR Kaľmar, Delta-III class submarine, K-44 Ryazan, will return to service by the end of 2015, after the completion of modernisation work. The work is being carried out at the Zvezda shipyard in the town of Bolshoy Kamen in the Russian far east.
The Russian submarine was commissioned on the 24th of November 1982. Then in the period between the 28th of July 1990 and the 31st of December 1993 she underwent interim overhaul and modernization work at the Zvezdochka shipyard, at Severodvinsk.
During 2005–2007 the submarine passed service maintenance at Zvezdochka shipyard and was delivered to the Navy in the Autumn of 2007.
The submarine was transferred to the Pacific from the Northern Fleet in 2008 and was moved to the Zvezda shipyard in 2011, for new overhauling and modernisation work. According to an announcement from the shipyard, the submarine was recently transferred to the covered, dry dock of the shipyard for the completion of the work.
The submarine will be delivered to the Russian Navy before the end of 2015 and will join the two remaining Delta-III class submarines, the K-223 Podolsk and the K-433 Sv. Georgiy Pobedonosets, commissioned to the 16th Squadron, based in Vilyuchinsk (Rybachiy, Krasheninnikov Bay, Kamchatka Peninsula).
Besides the modernized K-44 Ryazan, two more fourth generation, Project 955 Borei-class submarines have already been commissioned to the 16th Squadron in the previous months, the K-550 Alexander Nevskiy, on the 14th of April 2015 and the K-551 Vladimir Monomakh on the 19th of December 2014.
The new vessels have dramatically increased the firepower of the Pacific fleet, since the three Delta-III class submarines, K-223 Podolsk, K-433 Sv.Georgiy Pobedonosets and K-44 Ryazan, carry 48 R-29R Vysota (SS-N-18) submarine-launched ballistic missiles with 144 nuclear warheads, while the two Borei-class submarines, K-550 Alexander Nevskiy and K-551 Vladimir Monomakh, carry 32 R-30 Bulava (SS-N-32), submarine-launched ballistic missiles with 96 warheads.
The Russian Navy intends to maintain a formidable nuclear deterrence submarine force, which will consist of newly built vessels and modernised submarines.
In the near future the Strategic submarine forces of the Russian Navy will include:
Three Project 667BDR Kaľmar, Delta III class submarines,
Six Project 667BDRM Delfin, Delta IV class submarines, and
Three Project 955 Borei class submarines.
These vessels are armed with 48 R-29R Vysota, 96 R-29RMU Sineva/R-29RMU2 Layner and 48 R-30 Bulava submarine-launched ballistic missiles respectively.