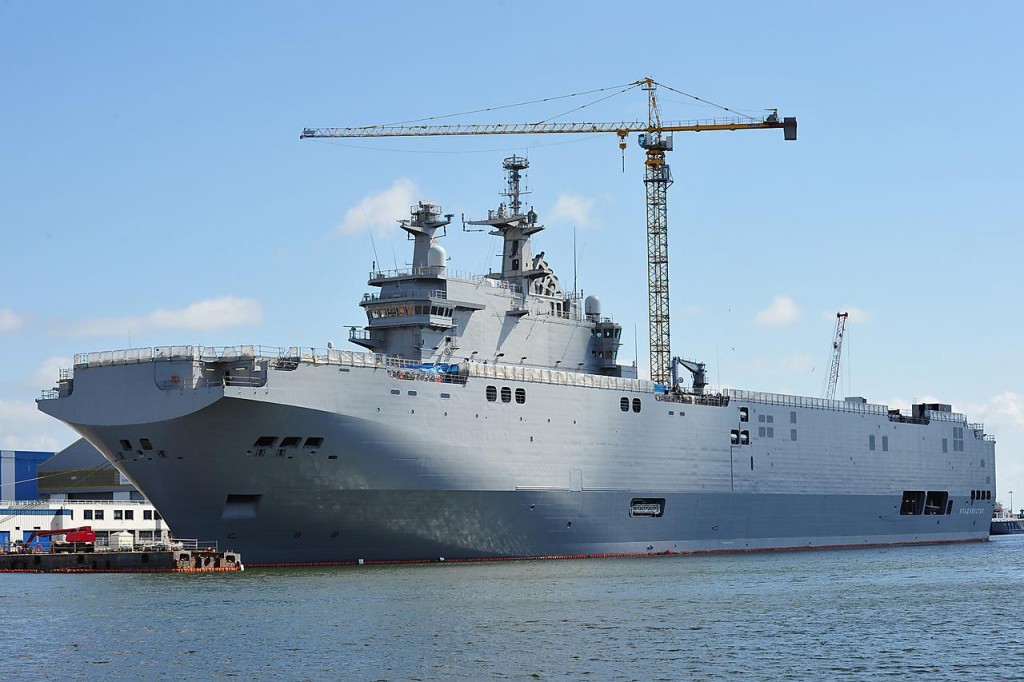 France has transferred advanced technology to Russian shipyards, according to the Russian News Agency, Ria Novosti. The report claims that this transfer took place before the Mistral-class Landing Helicopter Dock programme was stopped due of Western sanctions against Russia.
The Mistral-class Franco-Russian deal was signed on 17 June 2011 with the Russian Navy ordering two French-designed Mistral-class vessels for 1.7 billion dollars. The deal also provided for the construction of the first vessel's parts to be done at the Russian Baltiysky Zavod shipyard in St. Petersburg.
According to Ria Novosti, Alexei Diky, the director of military-industrial cooperation at Russia's state-owned United Shipbuilding Corporation (USC) said that three types of technology were transferred from French to Russian shipyards.
Diky reports that the first type of technology allowed the Russians to conduct their own "large-block assembly", used in the construction of the Mistrals – most particularly, the aft section of the first of the Mistral-class Landing Helicopter Docks was built at USC Baltic Shipyard in St. Petersburg based on the blueprints that the French shipyard shared with the Russian engineering centre at Admiralty Shipyards.
According to Russian General Staff, General Nikolai Makarov, the main reason for the procurement of the two French-designed Mistral-class Landing Helicopter Dock, instead of building similar Russian designed vessels, is that Russia would require another 10 years to develop the necessary technologies to accomplish such task.
According to defence analysts the technological capacity obtained is very valuable for the future shipbuilding plans of the Russians. Construction of the aft section of a Mistral-class Landing Helicopter Dock could enable Russia to independently construct its own Mistral-type military vessels in the future; or even larger vessels like the new 330 meter long aircraft carrier that currently is under development.