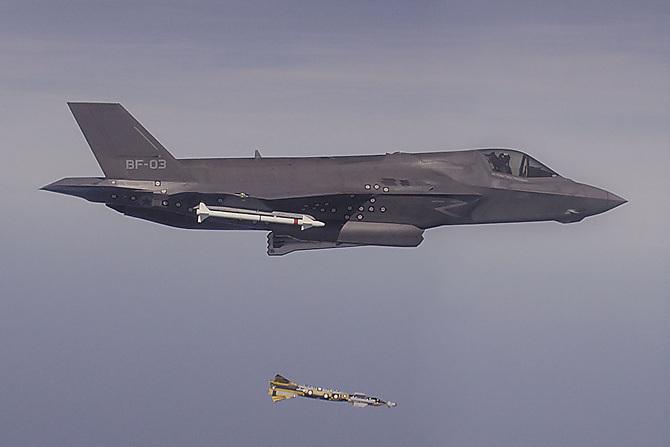 The bomb that will be the mainstay of strike missions by Britain's next-generation jet has been successfully dropped by the stealth fighter for the first time.
RAF test pilot Squadron Leader Andy Edgell released two Paveway IV laser-guided bombs, 500lb of combat-proven firepower already used in action by UK Harriers and Tornados, from his F-35B Lightning II on a huge test range in the US.
Taking off from the US Navy's Pax River air station, on Chesapeake Bay 45 miles southeast of Washington DC, the RAF flier opened the doors of the stealth fighter's internal payload bays, which can carry up to 3,000lbs of ordnance, and a few seconds later the dummy bombs dropped from their racks to begin the fall to their targets on the vast Atlantic Test Ranges on the US Eastern Seaboard.
The dropping of the Paveway IV, Britain's weapon of choice when it comes to laser-guided bombing, is the first of series of UK ordnance tests involving the strike fighter lined up for this year.
The F-35B Lightning II, which will provide the aerial firepower of HMS Queen Elizabeth and Prince of Wales when the new carriers enter service, it is undergoing extensive testing on both sides of the USA by the US Marine Corps, Royal Navy and Royal Air Force.
A 75-strong team of RN/RAF personnel is based at the legendary Edwards Air Force Base in California with 17(R) Squadron is developing the tactics ready for front-line squadrons, the Air Force's 617 and Fleet Air Arm's 809, to use on combat missions.
"I think this aircraft with the HMS Queen Elizabeth will give the UK a maritime strike capability that will be unsurpassed,"
said Commander Ian Tidball, the senior Fleet Air Arm aviator flying the F-35B.
He became the first Briton to fly the Lighting II under UK rules.
His Commanding Officer and fellow Lightning pilot Wing Commander Jim Beck said the jet would be:
"…at the vanguard of combat air for both for potentially the next 40 years."
"To be here at the forefront, working alongside the Americans as they develop what is going to be their core weapon system for their combat aircraft, it's an absolute delight and a great, great honour for everyone serving here."