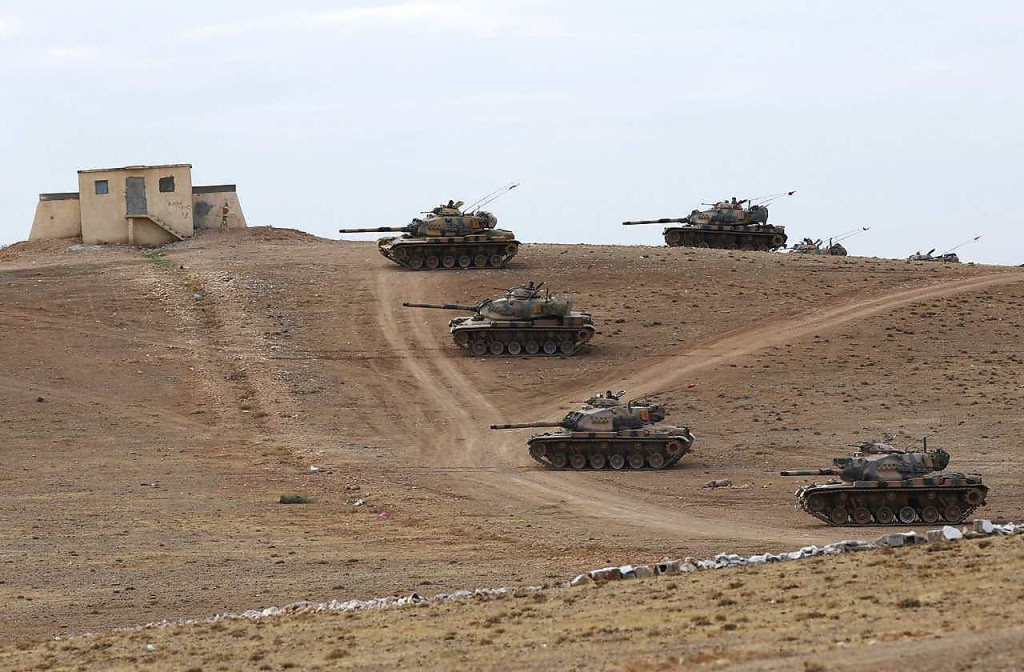 Turkey is considering invading Syria and establishing a 110km long and 33km deep buffer zone, along its borders in order to prevent ISIS and Kurdish advances.
Turkey shares an 877km long border with Syria and, according to the Turkish media, its Army is planning to send 18,000 troops into Syria.
This action is pursued by the President of Turkey, Recep Tayyip Erdogan, with the goal of the Turkish President bring preventing the establishment of a Kurdish state in northern Syria, following the military successes of Kurdish fighters battling Islamic State group militants. This initiative was spurred by Kurdish militia successes during recent weeks. Only last weekend Syrian Kurdish Peshmerga forces managed to secure the border city of Kobani, achieving an important victory over Islamic State, two days after the militants launched their attack against the city.
The Yeni Safak newspaper reports reports that the Turkish Army has been instructed to prepare to establish a 110km long and 33km deep buffer zone, along the Turkish border with Syria, in order to prevent the advances by both ISIS and the Kurds – although there has not been any official confirmation of this report.
Last Sunday, Turkish Prime Minister Ahmet Davutoglu was quoted as saying that,
"If any harm is to come to Turkey's border security, if Turkey reaches the conclusion that this garden of peace is being threatened, it is prepared for any eventuality… We will take the necessary measures to reduce the risks related to cross-border security."
Ankara fears that Syrian Kurds might establish an autonomous Kurdish state in northern Syria, something that would inevitably send the signal for a similar action to the 14 million Kurds of Turkey.
According to analysts, a possible Turkish military intervention in Syria would be limited in scale and scope since the Prime Minister Ahmet Davutoglu still needs to find a partner to form a government.