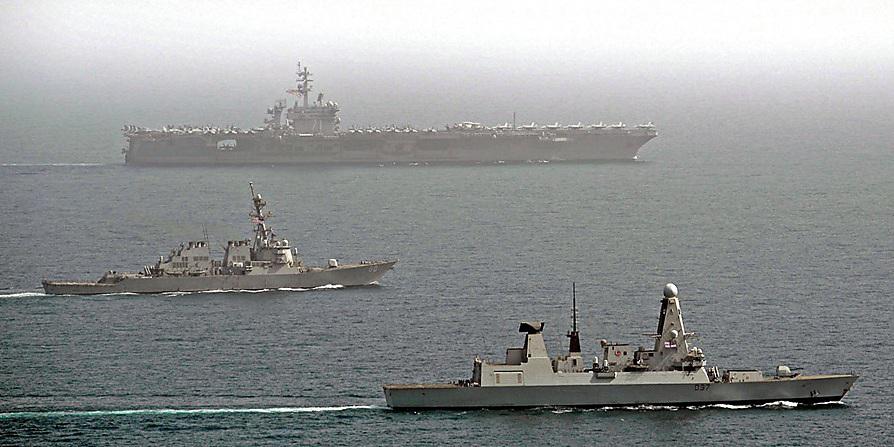 Royal Navy Type 45 destroyer HMS Duncan is working around the clock to support day and night strikes against key ISIL targets in the Middle East launched from the USS Theodore Roosevelt.
She's the latest Royal Navy Type 45 destroyer to take her place with a US carrier battle group on operations in the Gulf region, and is part of a coalition of more than 60 countries.
It is her job to shield the 100,000-tonne American carrier from any foe by sea or air – HMS Duncan's Sea Viper missiles can take out the latter at up to 75 miles away.
But more important for the ongoing mission in the Gulf is her ability to provide air traffic and fighter control – the former keeps the aircraft apart while the latter guide F-18 Super Hornet bombers flying from the Roosevelt's deck on to their ISIL targets.
"This deployment has been the highlight of my 24 years in the Royal Navy, and I know my sailors and Royal Marines are proud of all we have achieved so far," said Commander Rich Atkinson, HMS Duncan's Commanding Officer.
"Duncan's cutting-edge capabilities make her the natural choice to escort the Theodore Roosevelt and provide the umbrella of protection she requires to carry out uninterrupted air strikes in the fight against ISIL."
The Portsmouth-based destroyer is on her first tour of duty – as is electronic warfare specialist Able Seaman Ash Stroud.
"We're very much a full part of the carrier strike group – we're often the primary escort which shows that the US Navy trusts us to protect one of their most powerful warships," he said.
"Whilst nine months away from home is a long time, I'm really proud to be contributing to such a worthwhile mission."
As well as supporting the international effort against the ISIL fundamentalists – the 8,500-tonne warship has also joined the wider security mission in the region: patrolling the Red Sea, Gulf of Aden, the Gulf of Oman and accompanying shipping through the key choke points in the region such as the Strait of Hormuz and the Bab al Mandeb.
Working with the US carrier also sets the pace for the arrival of the Royal Navy's two new Queen Elizabeth class carriers – allowing the Service the opportunity to develop effective techniques.
"I've been with HMS Duncan since she was built on the Clyde and it's great to see her now, three years on, showing her flexibility as a deployed Royal Navy warship," said Officer of the Watch Lieutenant Samuel Velickovic, who works on the destroyer's bridge.