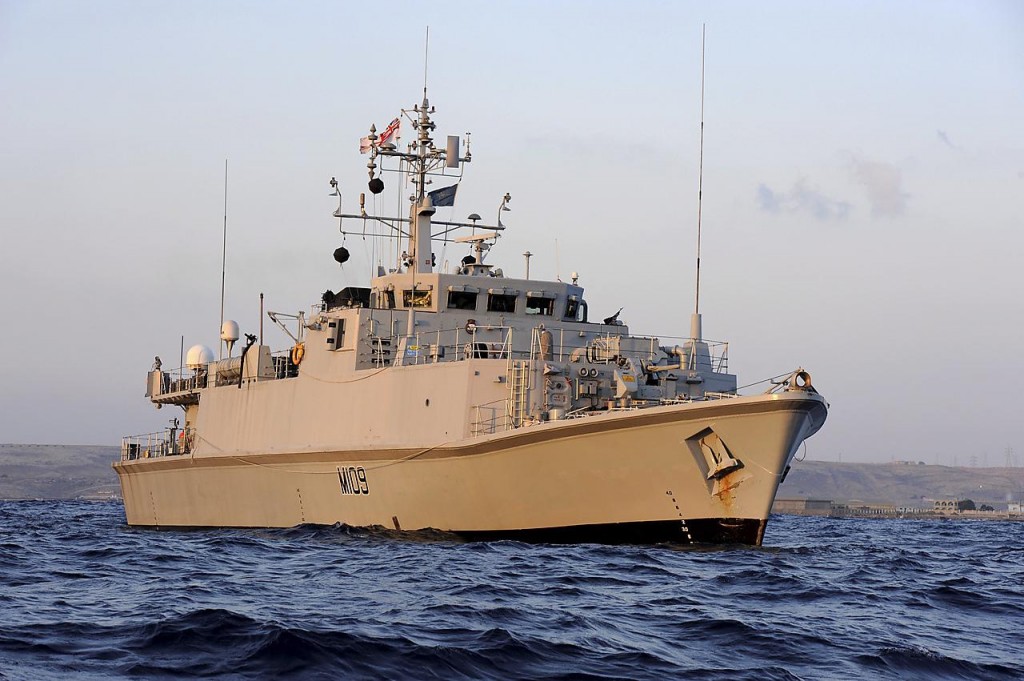 Royal Navy warship HMS Bangor (M109) has been working out with the Egyptian Navy warship ENS Al Zaffer – the first joint UK and Egyptian naval training in over three years.
HMS Bangor, a Sandown Class mine-hunter, sailed with ENS Al Zaffer, a Jianghu I class destroyer, from the home of the Egyptian Red Sea Fleet, Safaga, to conduct Exercise Safaga Shark.
The exercise – planned by the two ships – included a range of training serials to develop cooperation and coordination at sea.
Bangor paid a short visit to Safaga before the two ships navigated out of port whilst under simulated attack from a Fast Patrol Boat, played by an Egyptian Navy patrol boat.
Once clear, Bangor joined Al Zaffer to commence Officer of the Watch manoeuvres, a series of ship stationing exercises that require good communications and skilful ship coordination.
Throughout the exercises the two ships communicated by radio and by flags. After this the emphasis moved to a common situation faced by ships on the high sea – dealing with an emergency and giving assistance.
For exercise purposes Al Zaffer reported a casualty onboard who needed assistance and Bangor went to help.
Bangor's Executive Officer Lieutenant Mark Morrison visited ENS Al Zaffer. He said:
"After a busy and successful exercise it was a real pleasure to visit Al Zaffer to see the ship and thank their team personally for the opportunity to train together. They appeared to enjoy it as much as we did and I hope we get to work together again in the future."
Captain Simon Brand RN, Defence Attaché to the British Embassy in Cairo, said the exercise was a significant step in the development of naval engagement between the two countries.
"It is in both of our interests to combat maritime threats in the region therefore it is imperative that we understand each other's capabilities better so we can work together to maintain good order at sea,"
he said.
The exercise came after Bangor visited Alexandria – the first Royal Navy ship to visit the Egyptian port city since 2009.
Her Commanding Officer, Lieutenant Commander Michael Carter-Quinn, was invited to lay a wreath at the Tomb of the Unknown Soldier in Alexandria with a large contingent of the ship's company in attendance.
Lt Cdr Carter-Quinn also welcomed Egyptian Naval Officers and guests onboard to thank them for the hospitality shown in Alexandria.
He said:
"The visits to Egypt were superb and I'm very proud of the way my team have both helped to maintain and enhance our long friendship with the Egyptian Navy and continued to complete every task with professionalism, pride and good humour."
HMS Bangor continues her deployment and will arrive in the Gulf later in the summer.
Once there she will be one of four Royal Navy mine-hunters working from Bahrain to provide maritime security and be ready to protect the shipping routes in the Gulf region if called upon.