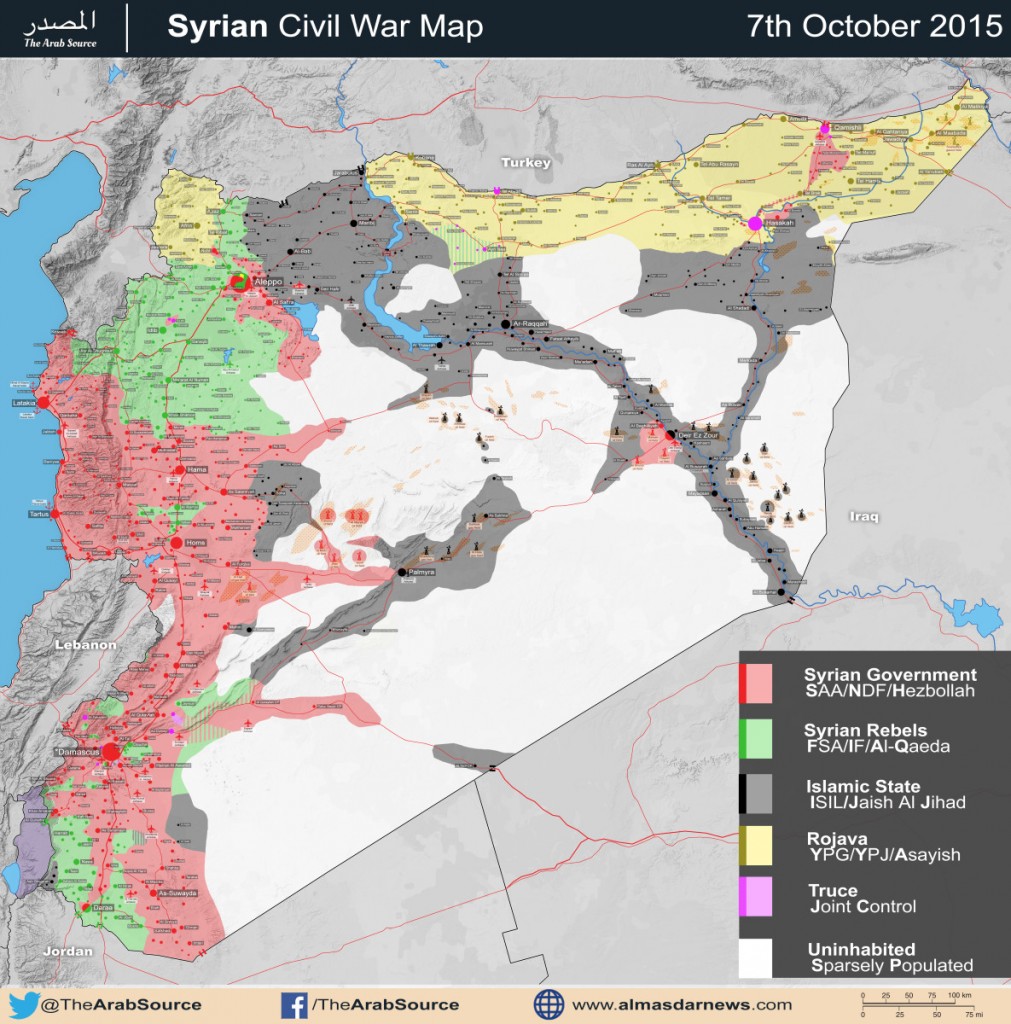 Earlier this morning the Syrian Army and National Defence Forces started a new offensive on the Al-Ghaab Plains of the Hama governorate. This area has been controlled by the Jaysh Al-Fateh organization, a faction of Al Qaeda, since last Summer.
The offensive on the northern front was assisted according to Al-Masdar news by continuous attacks from the Russian Air Force on Jaysh al-Fateh positions on the Al Ghaab Plains and in the Al-Zawiyah mountains of the Idlib governorate.
The new offensive is currently supported by ten Russian aircraft, making this the first time the Russian Air Force has coordinated its operations with the Syrian Army to attack enemy units.
The objective of the joint Syrian-Russian offensive is to recapture the Al-Ghaab Plains and more specifically to recapture of city of Al-Shughour from rebel forces. This will allow the Russian expedition force based in the Latakia governorate to establish a buffer zone around the Al-Akrad Mountains, which are located between the coastal area of Latakia and the Al Ghaab Plains.
Yesterday the Syrian Army, the National Defence Forces, the Republican Guard, and Hezbollah forces started the first large-scale offensive in an area north of the city of Hama. This is an area controlled by the Free Syrian Army and the rebel groups of Habhat Al-Nusra, Harakat Ahrar Al-Sham, Shal Legions and Liwaa Suqour Al-Ghaab.
The primary objective of the Syrian Army is to seal off the northern Hama border in the Idlib governorate and to establish a buffer-zone around the city of Khan Sheikhoun.
The government forces participating in this operation are: the Syrian Army's 87th Brigade of the 10th Tank Division, the 106th Brigade of the Republican Guard and platoons from the 7th and 9th Divisions.
According to government sources the Syrian Army have captured Al-Mughayr, Lahaya and Markabah in the eastern section of the offensive, as well as the hilltops of Tal Sakhar, Tal Sikeek, and Tal Uthmana, overlooking the town of Al-Haweez, which is located near the city of Kfar Zita. Additionally the Syrian Army recaptured the town of Kafr Naboudah in the western section of the offensive, where a government helicopter was shoot down this afternoon.
Since yesterday the Syrian Amy have been trying to recapture Kafr Zita, Al Lataminah, Latmeen, and Qala'at Al-Madayaq. Although they managed to reach the outskirts of the village of Latmeen, a counterattack by the Rebels managed to push them back.
According to Damascus, the Syrian Army has recaptured 40km2 of territory in the area of northern Hama,secured the Latmeen-Morek axis and the eastern perimeter of Latmeen village, but the casualties have been heavy. In the two days of this offensive the Syrian Army has lost 13 Tanks, 6 BMP-1 and 33 soldiers.
Image Sourced: Al-Masdar news