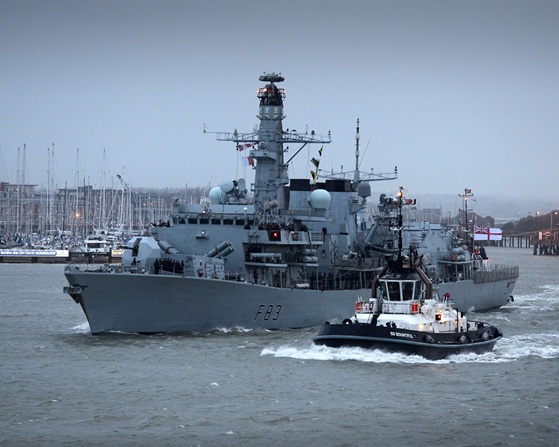 HMS St Albans will continue the work that her sister ship, HMS Richmond, carried out earlier this year as part of the Royal Navy's long term presence East of Suez.
Her task is to police the seas and promote UK interests in the region by acting as a deterrent to illegal activity, safeguarding allied and merchant shipping and help ensure that global trade can proceed without a hitch.
In preparation for deployment the crew have undertaken two fast paced training periods with Flag Officer Sea Training, the Royal Navy training organisation, famed world-wide for the tough trials it puts ships and crew through.
The ship, nicknamed the Saint, is the first to deploy with the combined aviation technology of a Merlin Mk2 helicopter and ScanEagle unmanned aircraft.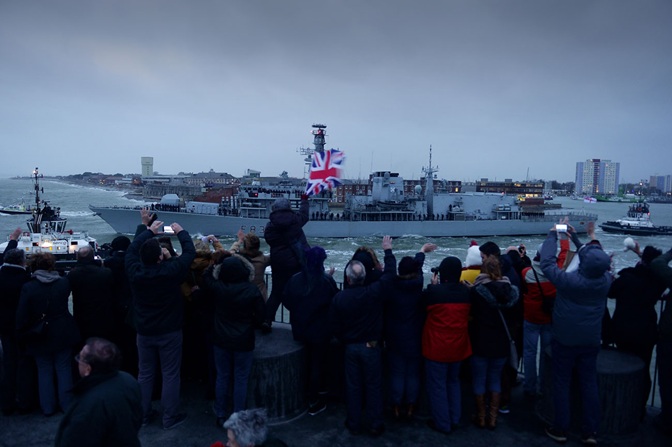 HMS St Alban's Commanding Officer, Commander Richard Hutchings, said: "St Albans has been tested and proven fully fit for operational missions wherever and whenever the government needs.
"It's a lengthy and highly complex process to prepare for a deployment like this but the ship's company is absolutely ready and excited about the opportunities and challenges ahead."
He added: "We have fitted much of the latest technology, including a class-leading warfare combination in our Merlin Mk2 helicopter and remotely-piloted ScanEagle surveillance aircraft, whilst our collective Royal Navy and Royal Marines boarding team enables a more traditional form of maritime security and policing.
"With just 225 people on board, the ship offers a remarkable range of options to support UK interests around the world."
The ship has been through extensive maintenance and upgrades including the installation of ScanEagle, a pilotless aircraft, which provides the Type 23 with extra "eyes in the sky" sending back live imagery to the operations room.
Launched by a catapult on a 14ft ramp, ScanEagle can remain airborne for 12 hours operating at ranges of up to 40 miles from the mother ship.
Final preparations took place last week when the ship's Merlin Mk2 helicopter joined the ship for a series of sorties designed to refresh and sharpen the ship's aviation skills prior to deployment.
Engineering Technician Sam Calligan, 19, said: "I'm really looking forward to the deployment. It will be my first trip away with the navy and I can't wait to actually do my job away from home. "
Image Sourced: Royal Navy