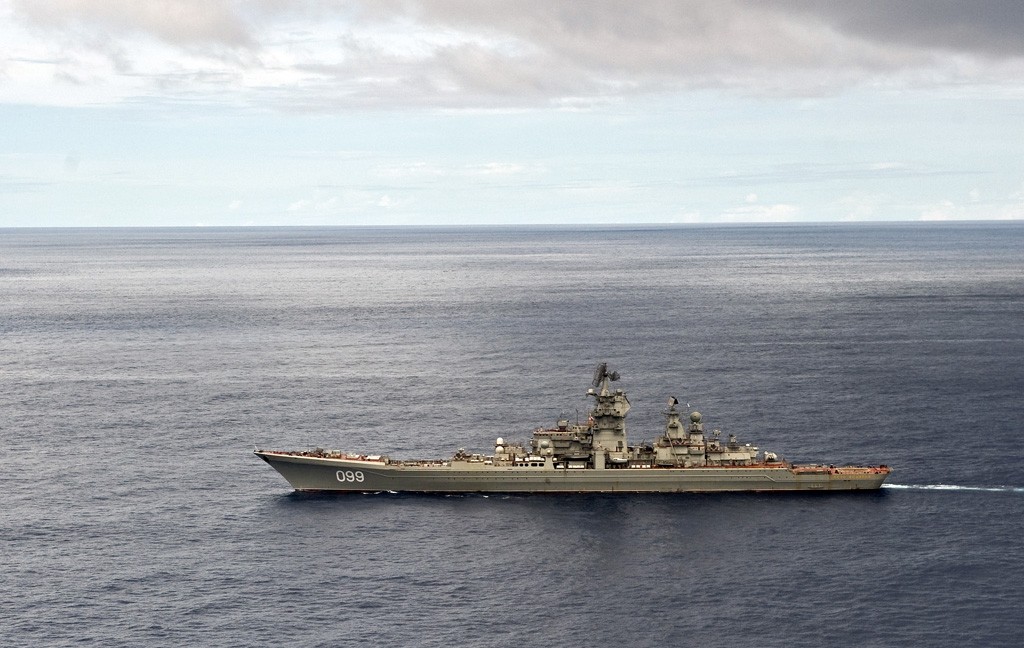 The Russian Navy will upgrade its two nuclear-powered Project 11442 Kirov-class battle cruisers, Pyotr Velikyi and its sister ship Admiral Nakhimov, with a new under development hypersonic anti-ship cruise missile.
The new Mach 5-capable ramjet engine equipped 3M22 missile of the 3K22 Zircon missile system would replace the ship's existing 390-mile range P-700 Granit supersonic anti-ship missile.
According to a Russian defense industry source, "The battle cruiser Pyotr Veliky will start repairs in the third or fourth quarter of 2019. Repairs and upgrade are due for completion in late 2022, the ship to be equipped with Zircon hypersonic anti-ship missiles".
"The missile is undergoing development testing and will enter service if it passes," he added.
It is believed that the new hypersonic missile is a version of the Indo-Russian BrahMos II hypersonic cruise missile.
The new hypersonic missile will have operational range of 300-400 km and its speed is set to be around Mach 5 thanks to a ramjet engine. The Zircon missile will be extremely difficult to intercept with current missile defense technology.
Both vessels Pyotr Velikyi and Admiral Nakhimov (which is currently being refurbished) are being upgraded at Sevmash shipyards, and will be equipped with the new hypersonic weapon.
Admiral Nakhimov, which will reenter operational service in 2018, will be the first of the two Russian battle cruisers to be equipped with the 3M22 hypersonic cruise missile.
Sevmash shipyard and the Special Machinebuilding Design Bureau made a deal with the Russian Navy for 10 3S-14-11442M vertical launch systems (VLS) to equip the Admiral Nakhimov battle cruiser.
The contract is valued at 33.5 million dollars and includes the replacement of 20 inclined below-deck launchers of P-700 Granit anti-ship missiles (SS-N-19 Shipwreck) with 10 new VLS modules of the UKSK versatile ship-based launch system.
Each VLS module contains 4-8 missiles, depending on the selected version, bringing the total number of the anti-ship and cruise land attack missiles that each vessel can carry to 40-80 units. The same solution is expected to be applied to the Pyotr Veliky battle cruiser.
The warships are also being equipped with long-range Kalibr cruise missiles, which were recently used against the Syrian opposition forces and ISIS in Syria.
Both ships will also receive an upgraded air defense capability with the addition of a naval variant of the long-range S-400 and the mid-range Poliment-Redut missile systems. The latter is the naval version of the 50R6 Vityaz or S-350 middle-range surface-to-air missile system.
Redut middle-range surface-to-air missile system will be equipped with the under development 9M96E guided missile.
Basic performance characteristics of the S-350 include:
Maximum number of simultaneously engaged targets: 16 for aerodynamic targets and 12 for ballistic missiles targets
Maximum number of simultaneously induced missiles: 32
Interception range and height for aerodynamic targets: 1.5km-120km and 30km respectively
Interception range and height for ballistic missile targets: 1.5km – 30km and 2km -25km respectively
Earlier reports had suggested that the warships might receive the developmental S-500 missile system.