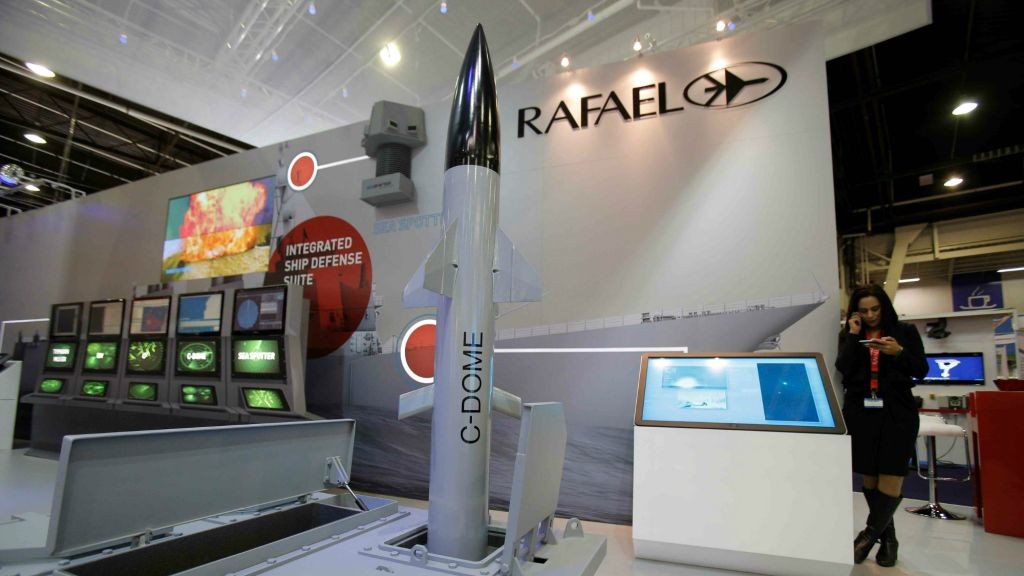 Sourced : The Jerusalem Post
The Israel Navy is in the midst of intensive preparations to deal with a growing rocket and missile threats posed by Hamas and Hezbollah, a senior IDF officer revealed on Wednesday.
Preparations include the installation of Rafael's C-Dome system, which is a sea-based version of the Iron Dome anti-rocket battery, on missile ships. A successful trial of the C-Dome occurred in February, the source said, when the C-Dome shot down three barrages of simulated Grad rockets fired by the IDF at a navy ship.
The source said the system on board the ship shot down all incoming threats.
C-Dome will enable the navy to protect offshore gas drilling rigs against Hamas rocket attacks, using a relatively inexpensive interceptor missile to deal with such projectiles.
At the same time, the navy is preparing  to deal with the more significant threat of long-range, radar-guided Hezbollah missiles, which include the infamous Yakhont supersonic missile.
To that end, the navy is planning on making the IAI-made Barak 8 anti-missile system, which intercept such missiles, fully operational by the end of 2017. The Barak 1 system, which has been operational for years, already protects ships against such threats.
The source described a changing enemy that has placed strategic Israeli targets within range of its missiles. Hezbollah can deploy mobile missile launchers on the Lebanese or even the Syrian coastline, and use them to target any strategic Israeli site.
Hezbollah has an array of surface-to-sea missiles,with ranges of up to 300 kilometers, that can be used to strike gas drilling rigs and navy ships. The same missiles can also be used as surface-to-surface missiles to attack the Israeli ports of Haifa and Ashdod.
The inter-branch approach has become key to the navy's concept of attaining "sea superiority," the source said. He said the navy had set up a new new fire control center, dedicated to acquiring enemy targets and allocating their coordinates to the air force, the IDF Northern Command, and navy ships.
The navy's ships are being fitted with a growing number of sea-to-surface missiles, reflecting the changing nature of their missions.
Additionally, the navy has installed new sonar detection sensors in northern Israel, designed to sound an alert in case of a Hezbollah attack involving commando divers seeking land on an Israeli beach.
According to the source, the navy is also integrating itself in Ground Forces combat functions. Reporters were shown on Wednesday two previously unknown vessels, dubbed 'Manta,' which are designed to ferry logistics for ground units in combat arenas.
Speaking on board one such craft, Navy Chief V-Adm. Ram Rothberg said, "We are expanding our operational capability well beyond the borders of the sea. We can take part in ground combat, and we have a sea superiority concept that calls for accurately striking the enemy."