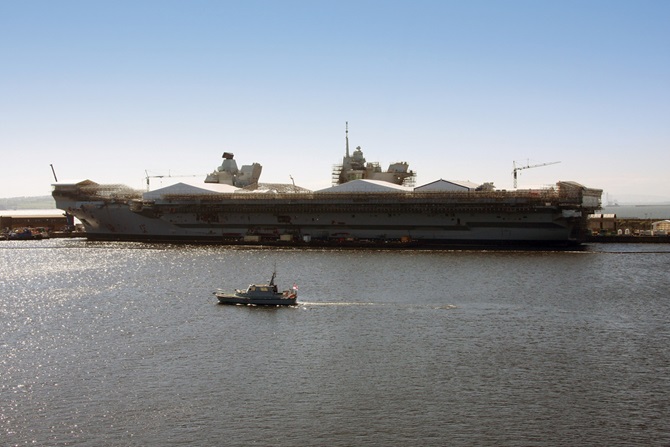 The smallest vessel in the Royal Navy is playing a key role in the maiden voyage by Britain's largest warship.
Tiny launch HMS Gleaner – previously used to scan the wreck of the Mary Rose in the Solent – has spent weeks surveying every inch of the Forth estuary to ensure carrier HMS Queen Elizabeth leaves Rosyth dockyard without a hitch next spring.
Nineteen times longer, 15 times wider and a staggering 3,000 times heavier, the new carrier dwarfed the small survey craft as she scanned the huge inner basin at Rosyth, where Queen Elizabeth is in the final stages of completion.
The future flagship – the largest vessel ever to fly the White Ensign – is due to begin trials in the North Sea next spring ahead of her debut in her home base of Portsmouth.
But with data on the Forth estuary 60 years old, Plymouth-based Gleaner and a specialist team of military surveyors were dispatched to Scotland to gather information on the tides, river bed and the three crossings – one rail, two road – to ensure the carrier's first departure runs smoothly.
HMS Queen Elizabeth has already been fitted with a special main mast which can be lowered to allow the ship to safely pass beneath the bridges.
But taking nothing to chance, Army surveyors from 42 Engineer Regiment (Geographic) from RAF Wyton in Cambridgeshire used the latest theodolites to measure the bridge heights, while Gleaner's crew did the same using a new laser scanner.
Beneath the surface, Gleaner's sonar looked down at the main channel into Rosyth dockyard which will need dredging before the carrier sails, and scanned the inner basin itself – 11.8 metres deep and about 32 times the size of the pitch at Wembley.
Despite the high-tech equipment crammed into Gleaner's tiny 15-metre hull, it's still taken the boat several months to gather the information needed – not least because the new Forth Road Bridge, due to open around the same time as the carrier sails, has affected the flow of the Forth and silt accumulating in the shipping channels.
"The use of modern multibeam sonar and precise satellite positioning should make the survey straightforward, but the environment of an estuary rarely makes it that way," said the launch's Commanding Officer Lt Marc Taylor.
"Still, we've finished the job and shown how the Royal Navy's smallest ship can provide a vital service to its largest."
Queen Elizabeth's first Commanding Officer Capt Jerry Kyd took the helm of Gleaner for some of the work inside the basin to see the accuracy of the data being collected for himself.
"The excellent work carried out by Gleaner over the past few months is hugely important to me as Queen Elizabeth's captain," he said.
"There's an absolute need to understand the hydrographical issues that will impact on the safe navigation of the carrier when we sail from Rosyth next spring."