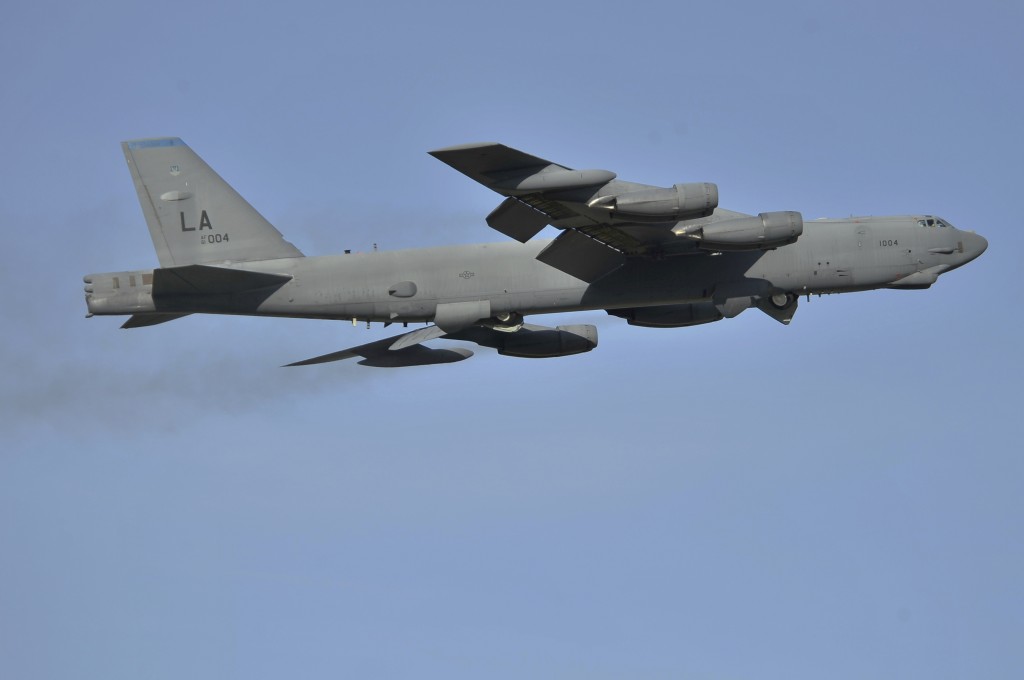 Sourced : Barksdale Air Force Base
By Senior Airman Curt Beach, 2nd Bomb Wing Public Affairs
From 28,000 feet above the Gulf of Mexico, B-52 Stratofortress pilots Capt. Lance Adsit and Lt. Col. Erik Johnson look out their cockpit window to see a fellow bomber aircraft soaring through the clouds to their right; two B-1 Lancers share the airspace far to the south.
The four aircraft are on a mission to destroy more than 200 digital enemy targets with simulated missile launches.
"Destination 28 in zone," says navigator Capt. Alex Barwikowski, signaling to the crew that the weapon is in the launch acceptability region. "Weapon away in: …two…one… weapon away," he says, simulating a weapon release from the aircraft's left wing. Then, thirty seconds later, "Destination 29 in zone. Weapon away in: …two…one…weapon away."
This was the scene from the skies as aircrew from the 77th and 340th Weapons Schools combined their capabilities as part of an integration exercise at Barksdale Air Force Base, Louisiana, Oct. 10-14.
At the beginning of the week, Gen. Robin Rand, commander of Air Force Global Strike Command, addressed the exercise's participants.
"We want to make you the best of the best in your particular weapon system," he said. "I call the weapons school the greatest leadership laboratory in our Air Force. There's no other institution like it where we concentrate more on warfighting or where we test you physically and mentally in your leadership skills. We need you. Our Air Force needs you. And our country needs you."
The integration was the capstone phase of a six-month training course, involving extensive communication planning across more than 10 agencies within the bomber community, followed by a live-fly exercise with two B-1s from Dyess Air Force Base, Texas, and two B-52s from Barksdale.
"We provide a scenario to the students that allows them to train as realistically as possible for standoff weapons employment – not just from the weapons side of the house, but also space, cyber and air," said Maj. Mike Perry, 340th WPS standoff weapons role manager.
Standoff weapons, such as the Joint Air-to-Surface Standoff Missile, are designed to be launched from outside of the combat area, allowing crews to strike distant targets with extreme accuracy without exposing themselves to potentially deadly enemy fire.
During the integration flight, the objective of the aircrew's simulated airstrikes was to whittle down an enemy's air defenses.
"We integrate a lot of different capabilities to try to confuse the enemy to the extent that we can get those missiles to their intended targets. This, hopefully, will have chipped away at the enemy defense system, making it more manageable and safe to send manned aircraft into that kind of a threat environment," said Maj. Kevin Johnson, 77th WPS B-1 instructor.
As combat capabilities continue to evolve, so must the integration scenario from one weapons class to the next.
"We've come lightyears from a tactics development standpoint, most of which progress has come in the form of timeliness, such as the decrease in the amount of time it takes to come up with a solution to a tactical problem," said Perry. "We increase the difficulty of the scenario from class to class because we have to continue to push the boundaries to make sure we're always on the leading edge of tactics development."
Johnson spoke on the importance of standoff weapons.
"It's a critical mission set that we need to be able to execute in order to hold our enemies at risk because as threat systems become more and more advanced, they have the ability to push us further and further away," he said. "Standoff weapons permit us to attack from a distance, making the enemy have very little capability to reach out and harm the aircrew delivering those weapons."
Before coming to Barksdale, the students of the 77th Weapons School spend the majority of their six-month course at Dyess. After this integration period, both schools' students will head to Nellis Air Force Base, Nevada, for the final stage. These movements allow the students to create new networks they can use throughout their careers.
"I've never sat down with a B-52 or B-2 [Spirit] guy and talked with them on this level of larger force integration," said Capt. Jon Scott, 77th WPS student. "I'm a B-1 guy, and I know quite a bit about B-1s, but I didn't know the full extent of what the other platforms bring to the fight. Just in a few days, we've learned so much from each other. If you want to talk about an exponential curve, it's near vertical after this week."
While each bomber platform has different capabilities, there are operations that can be done more efficiently using the integration skills they used during this scenario.
"When we're called on by a combatant commander to do this real-world, we won't be learning then for the first time, we've already been learning, preparing, we have the experience," said Johnson. "I think the integration, especially with respect to standoff weapons, is definitely something that will pay off for years and years to come for our students."