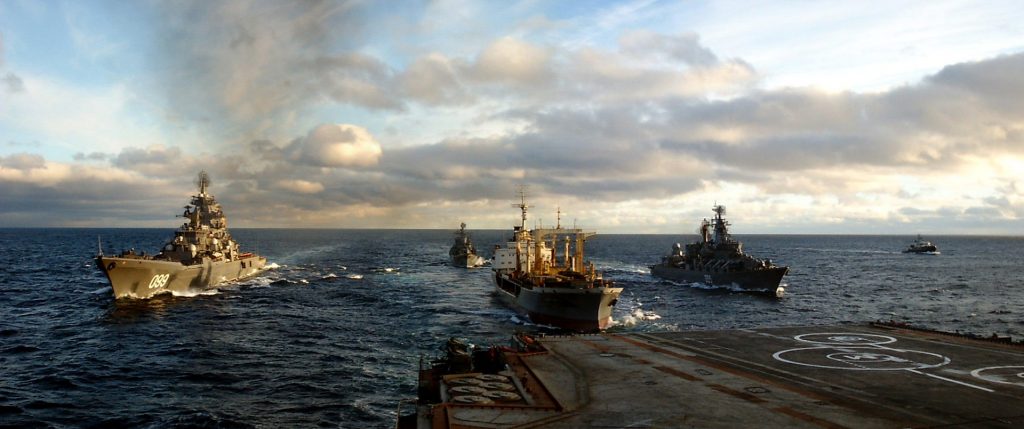 The Fleet Battle Staffs (FBS) and Dartmouth Centre for Sea Power and Strategy, Plymouth University (DCSS) will host a conference on 'Resurgent Russia' at HMS EXCELLENT on the 13 Jun 2017.
Conference Organisers
Lieutenant Commander Robbie Baillie (BSc, PGCE, MA, MSc, PhD)
Robbie is currently the Information Operations Officer on Commander UK Amphibious Forces' staff.  Since joining in 1999 he has undertaken various training and education appointments including DSAT officer at RM Poole, TNA analyst, DISC (now JITG) SO2 Course Design Cell officer and RM Corps Tutor.
In 2005 he spent 6 months in Bosnia as the Media Ops Officer/Task Force Spokesperson and in 2006 undertook a short deployment to Afghanistan.  From 2008-2010 he was the Education and Development/Assistant Media Ops officer on board HMS ILLUSTRIOUS. Robbie has a deep interest in Strategic Communications and Information Warfare and has a PhD in Politics and International Studies from the University of Warwick
Dr Fotios Moustakis (MA Hons, MSc, PhD, PGCAP, FHEA)
Associate Professor of Strategic Studies, Director of Dartmouth Centre for Sea Power and Strategy, University of Plymouth at Britannia Royal Naval College. Dr Fotios Moustakis teaches courses on European and International Security, International Terrorism and Foreign Policy at Britannia Royal Naval College and Plymouth University, including teaching provision for Royal Navy Officer Cadets and the Royal Marines.
He is also the Programme Manager for the MA Degree in Applied Strategy and International Security at the Hellenic National Defence College, Athens. He is a Visiting Professor at the NATO School in Oberammergau and Senior Associate Member at St Antony's College, Oxford University. His research interests are in the areas of International & European security, with special emphasis on strategy, western interventions in the post-Cold War Era, and international terrorism.
He has published widely in a number of refereed and policy practitioner journals such as Defence Studies, Defence and Security Analysis, European Security, Mediterranean Quarterly, Central Asian Survey, Contemporary Security Policy, Mediterranean Politics, Jane's Intelligence Review, Conflict Security Research Series-Sandhurst, and Contemporary Review.
The conference's key focus will be on understanding Russia's strategy; with a focus on the implications for the Naval Service.
The outline of the day is as follows:
08.00-09.00   Arrival
–           Check IT
–           Setup registration
–           Gate
08.30-09.00   Conference registration
–           Send one up on gate to direct.
–           Separate seating conference/workshop
–           Ensure Senior Officer seats reserved.
08.45  Fleet Commander arrives at FH – greeted at entrance
09.00-09.20   Opening remarks
–           Safety brief
–           Introduction by FC/CGRM.
09.20-09.50   Dr Graeme P. Herd. Dr Graeme Herd will give a presentation on 'Russian Strategic Culture – what can we learn from Russian activities in the Baltics'.
Dr Graeme P. Herd is Professor of Transnational Security Studies at the George C. Marshall European Center for Security Studies, which he joined in January 2015. He supports the Seminar on Transatlantic Civil Security (STACS), Programme on Terrorism and Security Studies (PTSS), Countering Transnational Organized Crime course and Senior Executive Seminar (SES), European Security Seminars, and Programme on Applied Security Studies (PASS). Dr Herd is involved in GCMC outreach activities and mentors and advises GCMC participant research-based policy analysis papers.
He is currently Senior Teaching and Research Fellow at the OSCE Academy in Bishkek, a member of the editorial board of Connections: the Quarterly Journal, the Emerging Security Challenges Working Group on the PfP-Consortium, and the International Studies Association (ISA). His own teaching and research interests have focused on diverse aspects of international and transnational security studies, primarily focused on Euro-Atlantic and Eurasian space.
He has an MA in History-Classical Studies University of Aberdeen (1989), and a PhD in Russian history, University of Aberdeen (1995).  During his 22-year academic career he has published nine books, written over 70 academic papers and has given over 100 academic and policy-related presentations in 46 countries.
Recent major publications include: Graeme P. Herd and John Kriendler (eds.), Understanding NATO in the 21st Century: Alliance Strategies, Security and Global Governance. (London and New York: Routlege, 2013), pp. 256; Nayef Al-Rodhan, Graeme P. Herd and Lisa Watanabe, Critical Turning Points in the Middle East, 1915-2015. London: Palgrave MacMillan, 2011, pp. 272; Graeme P. Herd (ed.), Great Powers and Strategic Stability in the 21st Century: Competing Visions of World Order. London: Routledge, 2010, pp. 256; Paul Dukes, Graeme P. Herd, and Jarmo Kotilaine. Stuarts and Romanovs: The Rise and Fall of a Special Relationship. Dundee: Dundee University Press, 2009, pp. 262; Anne Aldis and Graeme P. Herd (eds.). The Ideological War on Terror: Worldwide Strategies for Counter-Terrorism. London: Routledge, 2007, pp. 285; Tuomas Forsberg and Graeme P. Herd. Divided West: European Security and the Transatlantic Relationship. Chatham House papers. Oxford: Chatham House 2006, pp. 186.
09.50-10.20   Dr Andreas Liaropoulos. Dr Andreas Liaropoulos will give a presentation on 'Russian Information Warfare'.
Dr Andrew Liaropoulos is an Assistant Professor in University of Piraeus, Department of International and European Studies, Greece. He also teaches in the Joint Military Intelligence College, the National Security College, the Air War College and the Naval Staff Command College. He received his Master's Degree in Intelligence and Strategic Studies at Aberystwyth University and his Doctorate Diploma at Swansea University.
His research interests include international security, intelligence reform, strategy, military transformation, foreign policy analysis, and Russian cyber security. Dr Liaropoulos is also a senior analyst in the Research Institute for European and American Studies (RIEAS), a member of the editorial board of the Journal of Mediterranean and Balkan Intelligence (JMBI) and the convenor of the Greek Politics Specialist Group (GPSG).
10.20-10.40   Coffee break/ Fleet Commander departs for CUB (1030)
10.40-11.10   Dr David Riendorp.  "Planning Issues associated with the Maritime Grey Space"
Dr David Reindorp began his 'working' life as a merchant banker, quickly realised his mistake and became a naval officer.  Twenty eight years and four command tours later, and after re-reading Alice in Wonderland (in particular the passage about 'learning to believe impossible things before breakfast') he left to become a consultant and 'lite' academic.  His research areas include:
Operational art, strategic theory and information age warfare;
Theories of victory and how to win affordably in the 21st Century;
Maritime Security and Naval Strategy.
11.10-11.40  Dr Rod Thornton. "Russia activity in the Syrian Conflict"
Senior Lecturer in the Defence Studies, Department of Kings College London. Prior to academia Rod served as a Sergeant in 1st GREEN HOWARDS, a British Army infantry regiment. He saw service in Germany, Cyprus, Canada, Northern Ireland and Bosnia, and is the holder of a Queen's Gallantry Medal.
On leaving the Army he undertook an undergraduate degree in Russian and Serbo-Croat, and then two masters degrees (MSocSc in Russian and East European Studies and MA in Security Studies). He has studied at the following universities: Nottingham, Birmingham, John Hopkins, Sarajevo and the Kiev Institute of Civil Engineers.
Dr Thornton's PhD was from the University of Birmingham (supervised by Professor Terry Terriff) and involved a comparison of British, Russian and U.S. peace support operations. He taught for King's College London at the UK's Joint Services Command and Staff College (2002-2007) where he was the subject matter expert on terrorism and insurgencies.
Between 2007 and 2012 Dr Thornton taught at the University of Nottingham, where he specialised in international security issues and, specifically, terrorism/insurgencies. After leaving Nottingham he worked for one year at the University of Kurdistan in Erbil, Iraq, where he specialised in Middle East issues. He then spent three years teaching for King's College London at the Qatari Command and Staff College.
11.40-11.50  Comfort break
11.50-12.10  Mr Straun Macdonald  "Russia Policy update"
12.10-12.25   Panel Discussion
12.25-12.30   Lt Cdr Baillie – Lunch and Afternoon brief – Senior Officers asked to depart for Lunch first.
12.30-13.45   Lunch
13.45-14.15   Dr Jim Bergeron. Dr Jim Bergeron will give a presentation on 'Russian Maritime Strategy'
Dr Bergeron assumed duties as Political Advisor to Commander, Allied Maritime Command in Northwood, United Kingdom on 1 September 2013. Previously the POLAD to Naval Striking and Support Forces NATO from July 2005 as a member of the US Government Service, he is considered to be one of NATO's most experienced foreign policy advisors in the fields of maritime and joint expeditionary operations.
He has served as POLAD in eighteen US and NATO exercises; as POLAD to the NATO Response Force exercise Steadfast Jaguar in Cape Verde and NATO Riga Summit mission in 2006; in a national capacity as POLAD to EUCOM Commander Joint Task Force Lebanon during the 2006 Israel-Hezbollah Conflict; to Commander US Naval Forces Europe during the August 2008 Russia-Georgia Conflict and as POLAD to STRIKFORNATO for four Baltic Host and two BALTOPs exercises to reassure Allies of NATO solidarity.
From March until July 2011 he served as the Political Advisor to NATO's CJTF Operation Unified Protector in support of UNSCR 1973 operations in Libya. He is regularly consulted on NATO maritime strategy, transformational issues and NATO-EU relations, and was one of the drafters of the Alliance Maritime Strategy. Prior to his appointment in Naples, Mr. Bergeron served as EUINATO Policy Advisor on the Staff of Commander, US Naval Forces Europe, London.
Professor Bergeron entered the US government service following a career in academia. He holds a BA in History and English Literature from the University of the State of New York, MA in Political Science from the Maxwell School of Citizenship and Public Affairs at Syracuse University, Juris Doctor magna cum laude from the College of Law at Syracuse University and Master of Laws in European Union Law from the London School of Economics and Political Science, University of London, as a British Foreign and Commonwealth Scholar.
Following completion of the LL.M. in 1991, Mr. Bergeron joined the Faculty of Law at University College Dublin, Ireland, where he specialized in European Union law, European affairs, comparative antitrust, international law and jurisprudence. From 1991-2000 he held visiting appointments at the Nicolas Copernicus University, Torun, Jageillonian University, Krakow, Riga Graduate School of Law; Onati International Institute for the Sociology of Law, Spain and S1. John's University College of Law, New York.
In 1993 he developed the draft Estonian Code of Military Justice under the US European Command's military-to-military contacts program. Under the auspices of the European Commission he assisted in the revision of the Latvian Constitution from 1998-9 and training of Hungarian public prosecutors in EU law from 1999-2000. He served briefly on the Forward Studies Unit of the President of the European Commission.
Jim Bergeron has published several articles and book chapters on legal, political and international security topics, and is the editor, with Peter Fitzpatrick, of Europe's Other: European Law from Modernity to Post-Modernity (Ashgate 1998). He has spoken at numerous institutions, defense colleges, universities and think tanks including the Center for Naval Analysis, Naval Postgraduate School Monterey, Chatham House, NATO Defense College, Britannia Royal Naval College Dartmouth, RUSI, Institute for International Affairs (IA!) Rome, National Defense University, Wilton Park and the Maritime Warfare School Halifax.
He has had a long involvement with the American Bar Association, and currently serves as the ABA liaison to NATO, the International Maritime Organization and the International Committee of the Red Cross. Personal decorations include the Meritorious and Superior Civilian Service Medals, Navy Commendation Medal, Joint Service Achievement Medal, Navy Achievement Medal, NATO Libya Medal and the Golden Badge of the Estonian Ministry of Defence. Interests include naval history, art, early music, political theory, and military strategy.
Workshop brief/move to rooms
14.15-15.15   Workshop 1 – Russian Information Warfare – facilitated by Dr Andreas Liaropoulos.
                     Workshop 2 – Russian Intelligence – facilitated by Dr David Riendorp.
                     Workshop 3 – Russian Strategy in the Middle East/Med – facilitated by Dr Rod Thornton.
                     Workshop 4 – Russian Strategy in the Baltics – facilitated by Dr Simon Murden.
                     Workshop 5 – Russian Maritime strategy – facilitated by Dr Jim Bergeron.
Senior Officer Forum facilitated by Mr Straun Macdonald and Capt David Fields RN.
15.15-15.30   Coffee break /Collate presentations and secretary notes.
15.30-15.40   Workshop 1 – back brief
15.40-15.50   Workshop 2 – back brief
15.50- 16.00  Workshop 3 – back brief
16.00-16.10   Comfort break
16.10-16.20   Workshop 4 – back brief
16.20-16.30   Workshop 5 – back brief
16.30-16.40   Closing Remarks – COMUKARFOR
16.40-onwards Bar open – Buffet 17.00.
Workshops Questions
All workshops should answer the following: How should the Naval Service respond to a "Resurgent Russia" – recommendations, vulnerabilities, opportunities and risks.  The answer to this and any other key finding are to be briefed in the back brief (5-10 mins).
Questions/ suggested themes to guide workshop discussion
Workshop 1 Russian Information Warfare – facilitated by Dr Andreas Liaropoulos. What are the key characteristics of Russian Information Warfare? Is Information Warfare a concern for the Naval Service in the Maritime domain? How should the Naval Service respond to Russian Information Warfare?
Workshop 2 Russian Intelligence – facilitated by Dr David Riendorp. What are the key characteristics of Russian Intelligence?
Workshop 3 Russian Strategy in the Middle East/Med – facilitated by Dr Rod Thornton. What lessons can we identify from Russia's operations in the Middle East/Med?
Workshop 4 Russian Strategy in the Baltics – facilitated by Dr Simon Murden. What lessons can we identify from Russia's operations in the Baltics?
Workshop 5 Russian Maritime strategy – facilitated by Dr Jim Bergeron or Mr Mark Grove. What are the key characteristics of Russian Maritime strategy? Where do UK/Russia's interests conflict? How should the UK respond to Russia's Maritime strategy?
Further Reading :
https://www.eastwest.ngo/idea/russia%E2%80%99s-naval-policy-mediterranean-and-war-syria
http://mediterraneanaffairs.com/putins-geopolitical-strategy-in-the-mediterranean/
http://www.washingtoninstitute.org/policy-analysis/view/how-the-russian-military-reestablished-itself-in-the-middle-east
http://foreignpolicy.com/2016/08/31/dont-look-now-but-russias-got-ukraine-surrounded-crimea/
http://nationalinterest.org/blog/the-buzz/ukraine-the-key-any-american-russia-policy-19085
http://www.huffingtonpost.com/samuel-ramani/why-russias-military-esca_b_12618340.html
https://www.brookings.edu/research/dealing-with-a-simmering-ukraine-russia-conflict/
http://foreignpolicy.com/2016/11/16/how-world-war-iii-could-begin-in-latvia/
http://www.rand.org/content/dam/rand/pubs/research_reports/RR1500/RR1577/RAND_RR1577.pdf
http://www.baltictimes.com/russia_increases_its_misinformation_attacks_against_the_baltics_after_us_presidential_elections/