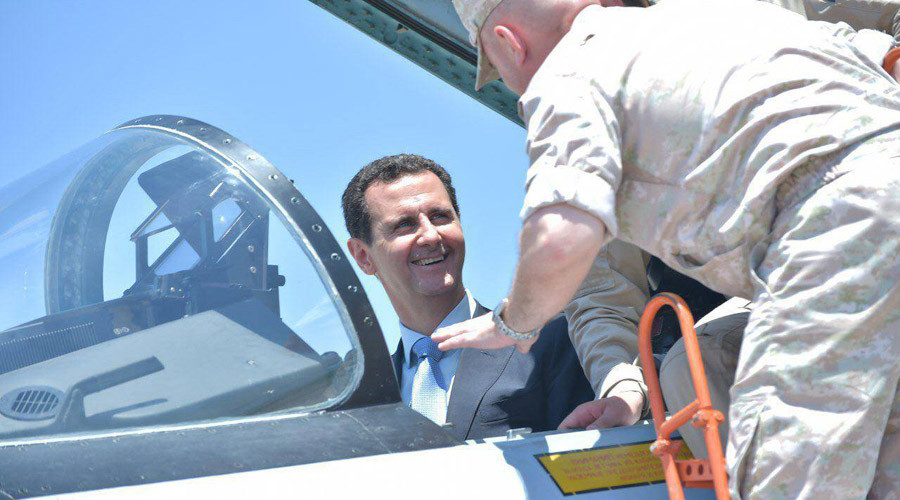 Sourced : Newsweek
By Tom O'Connor
Syrian President Bashar al-Assad rarely makes public appearances outside Damascus, but he has been seen frequently in recent days, including visiting wounded soldiers and a major Russian-leased military base in Syria, as Moscow defended him against U.S. accusations that he and his armed forces were planning to launch a chemical weapons attack.
Assad was seen Tuesday climbing into what observers described as a Russian-made Sukhoi Su-35 fighter jet at Syria's Hmeymim air base near the western seaboard city of Latakia. The Syrian leader was also photographed inspecting a BMPT-2 armored personnel carrier, unofficially nicknamed the Terminator, and an airborne fighting infantry vehicle, among other Russian weaponry stationed at the crucial military installation.
Throughout the visit, Assad was accompanied by Russian Defense Ministry Chief of Staff General Valery Gerasimov and a number of other Russian military officers, according to the state-run Syrian Arab News Agency.
Image Sourced : RT
Read more at : http://www.newsweek.com/syria-assad-russia-jet-hurt-soldiers-us-military-629433?utm_campaign=NewsweekFacebookSF&utm_source=Facebook&utm_medium=Social