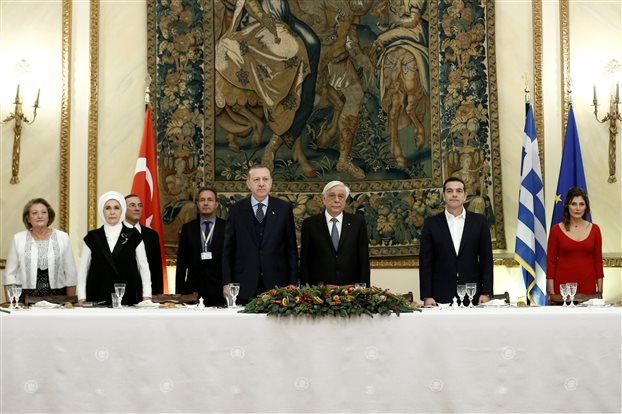 Sourced : FRANCE24.COM
President Recep Tayyip Erdogan began a state visit to Greece on Thursday, the first by a Turkish head of state in 65 years, by needling his hosts with revisionist border talk and complaints about its treatment of Muslims.
In what he called a "historic" visit, Erdogan said Athens was neglecting the Muslim minority of Turkish origin that lives in northern Greece, and accused the European Union of ignoring promises of financial support given last year in return for Turkey's help in stemming refugee flows.
"The European Union… has not put into effect any of the promises it gave on the economic side (whereas) we are abiding by our commitments," Erdogan told Greek President Prokopis Pavlopoulos.
Image sourced : To Vima
Read more at : http://www.france24.com/en/20171207-erdogan-riles-greek-hosts-with-revisionist-talk?ref=tw_i