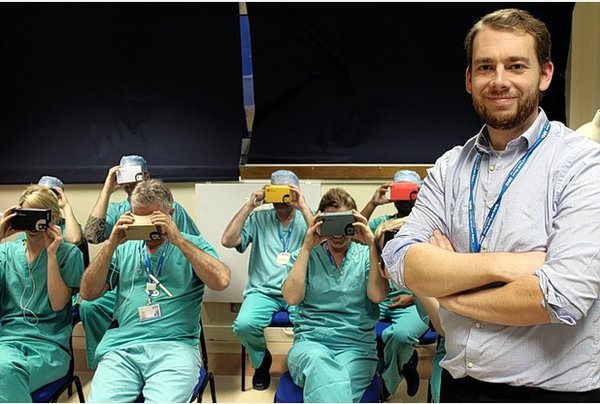 Virtual reality could be the ultimate empathy machine as it can put the user within a simulated experience that resembles reality. Once inside the simulation, the user is immersed into experiencing the reality and the emotions and feelings that are a result of that experience. Such a technological intervention can prove particularly beneficial in healthcare education.
Boodman (2015) explains that at one point in history, clinical empathy was dismissively taught as simply 'good bedside manner'. Empathy courses have rarely been taught in medical education, however this attitude is shifting with times as more focus is diverted onto the patient's experience. While sympathy is the feeling of conveying sorry toward a person, clinical empathy is the healthcare staff's ability to stand in the patient's shoes and gain an understanding on the patient's actual experience (Boodman, 2015).
According to Hojat et al. (2001), empathy is a cognitive attribute and not a personality trait; therefore it can be taught. Stanford University's Virtual Human Interaction Lab's VR research suggests that immersive VR can have deep implications on behaviour change. Garling (2015) explains that VR experiences might be able to help people learn fast and feel powerful engaging emotions that have an impact on their future behaviour. Artists like Chris Milk and Nonny de la Peña have been working on using virtual reality experiences to generate empathy for various causes. A similar concept has been applied within the field of healthcare by Nick Peres, a key member of our Digital Horizons team. Users can don headsets and put themselves in the position of the VR patient's perception. According to Patient VR, immersive technology is an effective intervention to address the transfer of humanistic skills within healthcare education. The intention behind Patient VR is to help the healthcare staff in understanding what the patient goes through, which can have implications on human factors such as communication, compassion and empathy toward the patient.
References
Alsevar, J. (2015) Is Virtual Reality the Ultimate Empathy Machine. The Wired (Internet) Available from https://www.wired.com/brandlab/2015/11/is-virtual-reality-the-ultimate-empathy-machine/ Last Accessed: 12th September, 2016
Boodman, S.G. (2015) How to teach doctors empathy. The Atlantic (Internet) Available from http://www.theatlantic.com/health/archive/2015/03/how-to-teach-doctors-empathy/387784/ Last Accessed: 12th September, 2016.
Garling, C. (2015) Virtual Reality, Empathy and the Next Journalism. The Wired (Internet) Available from https://www.wired.com/brandlab/2015/11/nonny-de-la-pena-virtual-reality-empathy-and-the-next-journalism/ Last Accessed: 12th September, 2016
Hojat et al. (2001) The Jefferson Scale of Physician Empathy: Development and Preliminary Psychometric Data. In the Educational and Psychological Measurement. Vol. 61, No. 2, pp. 349-365