Smart speakers are popular, readily available devices, such as Amazon Echo and Google Home. The devices provide a combination of an Intelligent Assistant, voice recognition, speakers and microphone, all in one package.
They are able to connect to the internet, to access apps and websites, and have an artificial intelligence module to be able to respond to a range of requests and learn from the user's behaviour.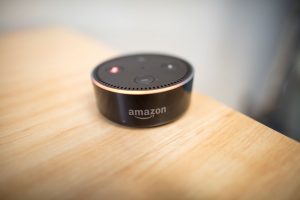 Why choose smart speakers over other technology that is available?
Whilst it is widely recognised that modern touchscreens are easy to use, for example tablets and smart phones, the operating systems and interfaces that power these devices are not always the easiest to navigate for the older generation, and can be restrictive for sight, dexterity problems and other ailments, which can lead to exclusion from modern technologies. This is where smart speakers could prove useful; instead of not knowing how and where to find information, the user can ask the device directly by communicating in a very natural and instinctive way, like they would when talking to another person.
Smart speakers may also help seniors maintain a sense of independence, as when connected to other smart home devices, like smart plugs or thermostats, tasks can be voice enabled rather than having to use fiddly switches or asking someone else to help.
Managing daily schedules can also become a breeze by setting routines on the device. For example, this could involve a number of tasks being completed at once with one simple command, "Good Morning Alexa", which results in the lights being turned on, the kettle starting to boil and Alexa telling you the weather forecast for the day ahead.
The potential tasks are varied and could include:
The thermostat being turned up at 9pm when the night draws in
Closing and opening blinds at pre-set times
Turning on lights automatically in the hallway past usual bedtime
Reminding the user to take the next dose of medication, throughout the day
By using programmed actions and sequences, a smart speaker could make life easier for someone with memory loss or cognitive decline, or those who care for them.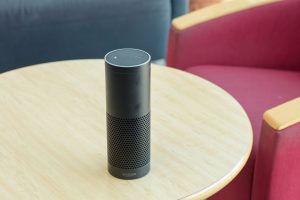 Are smart speakers easy to use?
The simple answer is, yes! The user does not have to remember too many commands but rather just set up simple and intuitive voice commands for set routines, or ask naturally for the information needed, for example "Alexa, what are other words for dark red?" Alexa responds politely in an easy to follow tone and pace, and recognises more than one voice to be able to distinguish between each user. This can come in handy when each person has set routines or wants to access their own information, for example from a telephone contacts list. As the devices are operated by voice control, they are easy to learn to use. If someone needs a prompt on how a function works, Alexa can remind them and this training can be repeated as many times as the user needs, for example "Alexa, how do I play music?"
The devices can also be used for entertainment by linking to other devices such as television and radio and when connected to the internet (and relevant music app), the user can request a specific song to be played without trawling through extensive menu options, for example "Alexa, play "New York, New York". This can be great for users who have previously struggled to operate a remote control or find it challenging to see buttons or options onscreen.
The device is not limited to just music; the user can listen to audio books, receive sports updates and results, or even ask for help with a crossword puzzle. The tasks are varied and could be as simple as creating a shopping list, setting an alarm or checking the weather.
Using Alexa to keep in touch
Although Alexa and Google Home are not intended to be used to replace human contact, some have compared smart speakers to having a digital companion, as you can converse with the device as if it were a real person and it is a friendly voice that is available to talk 24 hours a day.
One crucial thing that we haven't yet discussed is how smart speakers can help people to stay in touch with family, friends or carers by asking Alexa to dial their number or accept calls. Not only could this help combat feelings of loneliness and isolation, it could be used to alert others to a fall or emergency, for example by "Call daughter" or "Order an ambulance" if the user is within reasonable distance of the device. As with all technology, we see these devices as assistive and not to be used to replace human contact.
How can Voice Assistants be used within residential care environments?
Within care environments, smart speakers can be used for simple and regular requests such as "What is for lunch?", "Play a 1950's music playlist" or "What time is it?" The simple entertainment and routine applications discussed earlier are applicable in this environment but they could also be used as a way for residents to connect to each other, creating a stronger sense of community, or even as a voice activated emergency alert so that assistance can be called when the traditional panic button is out of reach. When residents interact with their devices, they are able to talk to their carers directly if another device is connected and they will be able to hear the carers' voices rather than a simulated voice; this could provide a sense of comfort, particularly in emergency and sensitive situations.
The video call function may also prove useful for contacting family and friends living long distances from residents. The devices may also be advantageous to care staff who are able to control functions, such as playing music, without having to physically remove themselves from a group or individual for whom they are caring.
EPIC are delighted to be involved with a University of Plymouth project, funded by a Cornwall Council Technology Enabled Care grant, offering the opportunity for residential care homes in Cornwall and the Isles of Scilly that specialise in the care of elderly residents or people with learning difficulties to obtain a free Amazon Echo Spot, which normally retail for £120.