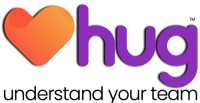 HUG is an online employee workplace platform, which will empower employers and managers to understand, using anonymous data, the physical and mental health of their personnel. This will enable full reporting and holistic guidance in order to address the needs of those in their workforce, and commit to the relationship in a whole world view.
As HUG is entirely anonymous and no personal details are held, the team hope that the platform will remove the barriers to honesty and complacency, and tackle embarrassment and shame, which typically occur in employee led surveys. The standout point for the platform is that it is employee centric and encompasses four areas; engagement, lifestyle, mental health and financial health.
Crucially, the platform has been designed and priced with any size business in mind, so that all can access the benefits regardless of HR budget, and as the technology develops over its next few generations it will learn from the anonymised responses recorded, highlighting areas for improvement autonomously, develop more meaningful reporting and suggest employee benefit schemes that could bridge the gaps.
Richard Doig from HUG tells us about how being involved with the EPIC project has helped their small Cornish Business. Read more of Richard's story at http://blogs.plymouth.ac.uk/epicehealth/2020/01/20/therealepicstory-spotlight-on-an-sme-richard-doig-company-director-of-hug/
As part of telling #TheRealEPICStory, our team has been going out to meet various people that have interacted with EPIC over the course of the project so far, to write up their experiences.
Kirsty met with Richard Doig, from HUG in January on a dreary day in Truro, and has struggled to write up her account of the meeting without it sounding like a fan piece!
The passion, knowledge and enthusiasm that is evident in Richard, and passed straight on to HUGs first product is envious. In order to really understand the product that he has been creating in collaboration with Matthew Ville, and how it came to being, it's essential to understand Richard's journey so far.
Richard did not work in healthcare, or technology development, before engaging with EPIC. His background is based around 35 years of helping organisations improve the wellbeing of their employees by delivering and enhancing their holistic employee benefit programmes, and the shift to not only create his own business but the move into eHealth, was to help fill the gaps of 'things' that aren't yet available.
As Richard has a wealth of knowledge of HR priorities and employee benefit schemes, it was a refreshing surprise to know that his inspiration for HUG was actually rooted in interactions with his family and friends – noticing their strengths, difficult times along the way and even a reassuring hug now and again from a relative. Which lead to pondering on how to empower the developing ideas of his children, how best to nurture delicacies within loved ones or simply how best to signpost friends to self-directed help.
But, in Richards own words "you can only go so far with one area of expertise and one point of view" which highlights the importance of collaboration to develop the platform and even encompasses scrutiny from Eloise and Ethan, his teenage children, from techy questions about real life-style bots who can read your facial features, to alternative uses for different environments other than traditional working environments.
Kirsty was curious to see why Richard initially felt that he needed to engage in the EPIC project, and ERDF funding, with such a strong idea – his answer was simple "The company, and the idea, wouldn't have happened, as we needed input from a range of diverse experts from both private, public and academic sectors." By engaging with EPIC it enabled networking with all sorts of technology experts, other creatives and academic input from the University of Plymouth, specifically the behavioural change team with Dani Austin and Jackie Andrade.
By having these interactions, and joining a strong network it provided the opportunity to develop existing ideas, and allow them to mature. Put simply, the feasibility grant was a freeing stage for Richard. He felt as if he was empowered to take a step back to think about what he really wanted to do, and take on board the advice of all of his new contacts. As the concept at first was very much 'wouldn't it be nice', but perhaps by going down a more traditional routes via business plans, bank manager meetings, and other funding streams it could have posed barriers to creativity and productivity.
Although the vision of understanding workforce health and mental stress in the workplace was Richards, the journey is all about time and inspiration, and matching them with the right people to bounce the ideas from, experts to develop and prototype the technology.
To continue as they started, HUG will be utilising Cornish talent to deliver the platform, setting an office up in Penzance in the future. Although Richard isn't Cornish himself, and we will try not to hold this against him, he prefers to label himself as Cornish made and has recognised the hunger and creativity in the region which will not only help to make HUG support healthy, happy and engaged employees worldwide, it will also boost the Cornish economy and bolster an alternative to industries typical to the region, offering different career paths than those of previous generations.
To find out more about HUG on their company website, visit: https://hugteam.com/
To read our blog on HUG, visit: http://blogs.plymouth.ac.uk/epicehealth/2020/01/20/therealepicstory-hug-the-holistic-employee-wellness-solution/