REACH Cornwall, which is part funded by the European Social Fund and delivered by Truro and Penwith College Business, travelled to the Isles of Scilly on Tuesday 3 March to facilitate a workshop developed in partnership with NHS Kernow Clinical Commissioning Group (KCCG). The training covered RESTORE2, a new tool specifically designed to enable care homes to monitor residents' health more effectively.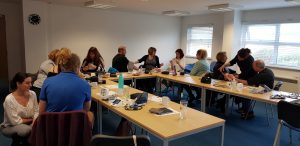 RESTORE2 encompasses both the NEWS2 (national early warning score) and SBARD (situation, background, assessment, recommendation and decision) tools created by the NHS to establish a standardised system for communicating concerns. The training aims to upskill and empower residential and domiciliary care staff to manage the difficult decisions which have to be taken when a resident or client first show signs of deterioration.
Claudia Schwarz, Park House and Domiciliary Care Manager, Park House Residential Care Home in St Mary's explained why this type of training is even more important in remote areas such as the Isles of Scilly:
'We provide care across many islands and we have limited access to training and other services. RESTORE2 is a fundamental tool to establish safe forward thinking care in our community. We work closely with emergency services and by being able to recognise, respond, and escalate appropriately, we can minimise hospital admissions and emergency Medivacs by helicopter.'
Louisa Forbes, Enhanced Health for Care Homes Nurse Manager, KCCG, who was instrumental in developing the training, firmly believes that RESTORE2 will have an overwhelmingly positive impact:
'By providing a structured approach and encouraging a shared language when liaising with GP surgeries and Out of Hours healthcare services, this training has huge potential to lower the number of unnecessary hospital admissions and better outcomes for people receiving care across the county.'
The workshop at Carn Gwaval Wellbeing Centre, Hugh Town, St Mary's, was the eleventh of 13 half day sessions, and Claudia was full of praise for the workshop:
'I most enjoyed watching the staff learn about this excellent topic with enthusiasm and motivation. The course was more than I imagined and exactly what I wanted to implement in order to improve standards of care and collaborations with other professionals.'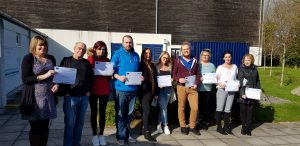 The final two RESTORE2 training sessions took place on Tuesday 10 March at The Old Quay House in Hayle – events which were fully booked many weeks in advance, further demonstrating the value care providers place on training for this new tool.
For more information about REACH Cornwall, please visit: http://reachcornwall.org.uk or contact the team at healthandcare@truro-penwith.ac.uk or on 01872 308 197.