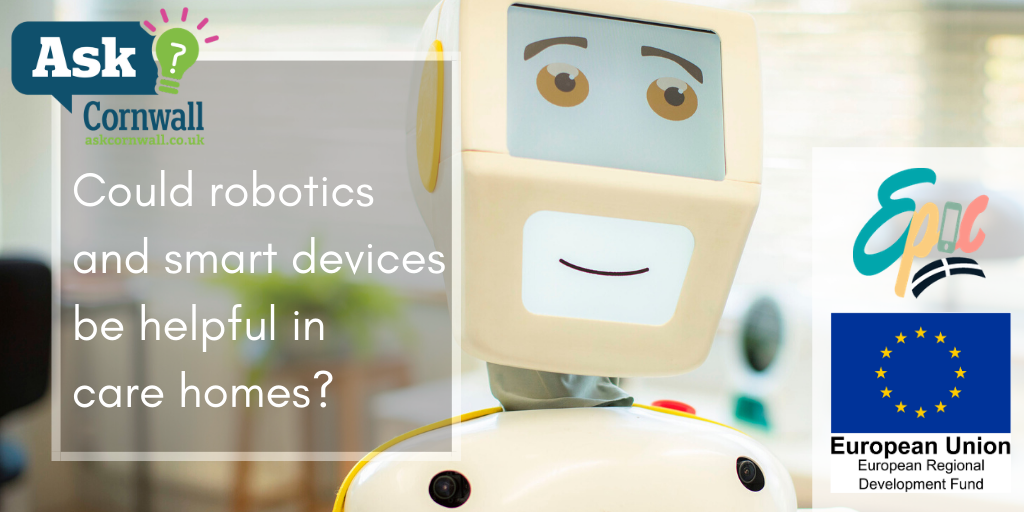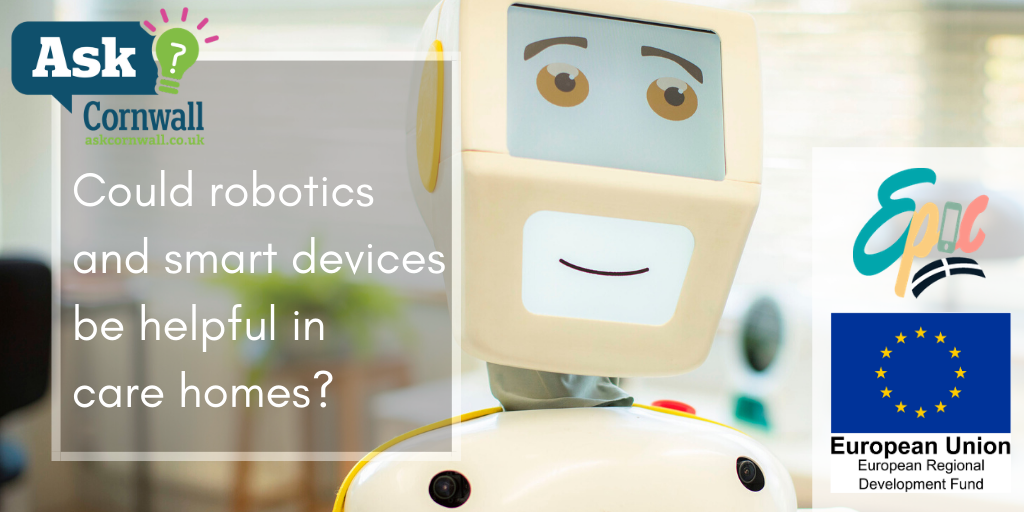 Could robotics and smart devices be helpful in care homes?
Care homes are an important potential market for robotic developments. There are several different types of robots and electronic devices that are suitable for use in care homes – some are used already by homes within Cornwall and the Isles of Scilly.
These include robot pets used for companionship, telepresence devices to connect people to family and friends, which range in price and sophistication and include examples such as Genie, Facebook portal or Kubi or even much more sophisticated, but more expensive humanoid robots, which could be used to assist with activity coordination, releasing time to care for carers as well as incorporating telepresence and companionship aspects. A great example of this technology is Stevie, which EPIC trialled in November 2019 at Reflections day centre, Tuckingmill. Amongst Stevie's capabilities he was used to entertain residents, running musical bingo, dancing and having conversations – helping the activities coordinator while they cared for individuals with particular needs.
Using Ask Cornwall, an online community designed to help you make useful connections and share ideas for better health and care, we would like to discuss whether the use of technology could help to assist with provision of care. Discussing technology that is currently on the market, and potential developments for the future.
There could be gaps where technology doesn't already exists, or problems that aren't quite solved by the use of devices, and are keen for you to share your experiences and thoughts so that we can work on a solution together.
On the 6th of July we will be launching the discussion on Ask Cornwall, asking questions such as when thinking about the people you support or the challenges you yourself face, how do you imagine that technology help? Or, as a technologist or organisation, how might you develop a technological solution?
We would like to discuss identified needs and challenges, and debate which may have a feasible robotic solution.
It is easy to get involved and share your views, simply create an account on Ask Cornwall and you are all set to join in!
There will be an online workshop event, hosted via Zoom, on 23rd July 2020, to discuss the ideas and considerations that have stemmed from the Ask Cornwall discussions and to move towards the creation of a working group to champion development of robotics in care environments.
To express your interest for this event, please register at https://www.eventbrite.co.uk/e/could-robotics-and-smart-devices-be-helpful-in-care-homes-tickets-105263237176?aff=AskCornwall