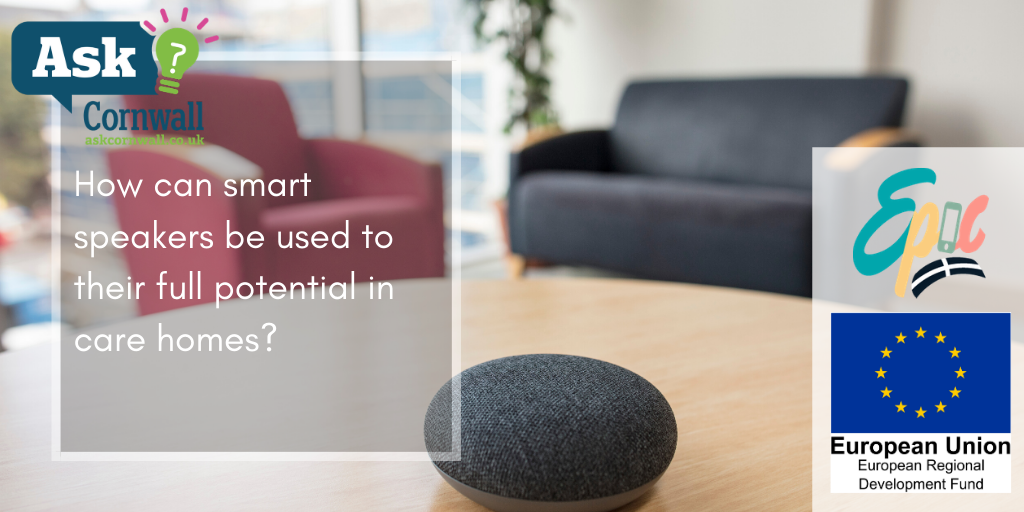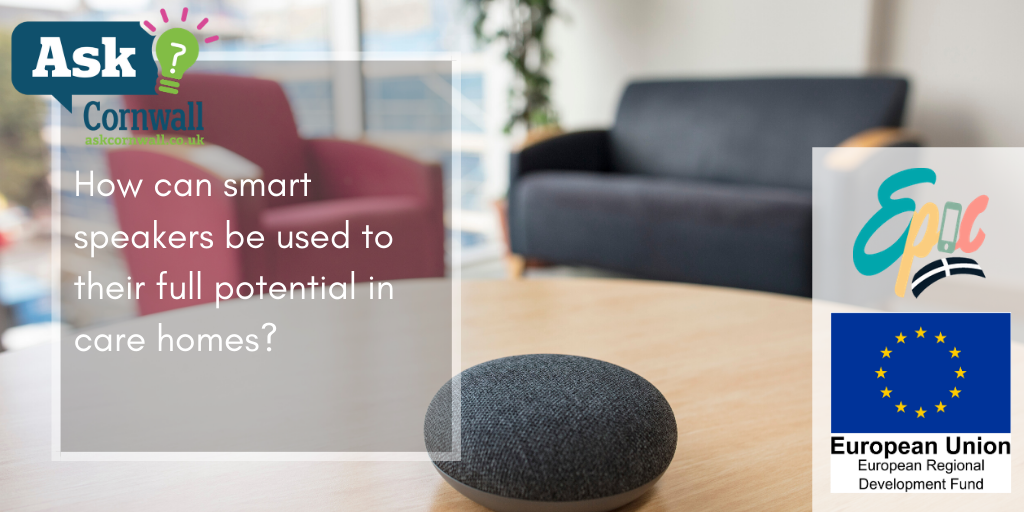 Residential care provides support for over half a million people in the UK. This figure is likely to grow in line with an aging population and increasing prevalence of conditions such as dementia.
As well as those in later life, residential care providers support those with mental and physical issues of all ages. Those who require support may have highly complex needs, which can mean that meeting their individual needs is challenging. Engaging residents in meaningful tasks and activities can also be a significant challenge, which is made even more difficult in an under resourced environment.
Smart speakers are one example of 'voice activated technology'. In 2019 EPIC gave 150 care homes in Cornwall and the Isles of Scilly an Alexa device, to benefit both staff and residents. Our findings have shown that using a smart speaker in a communal area can help to engage residents in a variety of ways, including age appropriate music, quizzes and even cook-along sessions.
Using Ask Cornwall, an online community designed to help you make useful connections and share ideas for better health and care, we would like to discuss whether the use of smart speakers could help within residential care.
On Ask Cornwall we are keen to explore your views. When thinking about the people you support or the challenges you yourself face, how do you imagine that voice activated devices and smart assistants (smart speakers) can help?
If you or a loved one is living in residential care, what are your main concerns and challenges?
Thinking about the people you support and the challenges you face, could voice activated technology provide a solution to your challenge? If you already have a smart speaker, what other tasks do you think you could use it for, but perhaps do not know how to set up or use?
For example, voice activated technologies can also be used for actions such as 'Alexa, turn on the lights'. Smart speakers with screens such as Echo Spot can also be used for video calls.
Do you think these would be appropriate in care homes?
Could voice activated technology help residents to engage in additional meaningful activities?
There could also be gaps where technology doesn't already exists, or problems that aren't quite solved by the use of currently available devices. We are keen for you to share your experiences and thoughts so that we can work on a solution together.
It is easy to get involved and share your views, simply create an account on Ask Cornwall, and get involved.
There will be an online workshop event, hosted via Zoom, on 13th August to discuss the ideas and considerations that have stemmed from the Ask Cornwall discussions and to move towards the creation of a working group to champion technology within domiciliary care environments.
To express your interest for this event, please register https://www.eventbrite.co.uk/e/how-can-smart-speakers-be-used-to-their-full-potential-in-care-homes-tickets-105236314650?aff=Blog