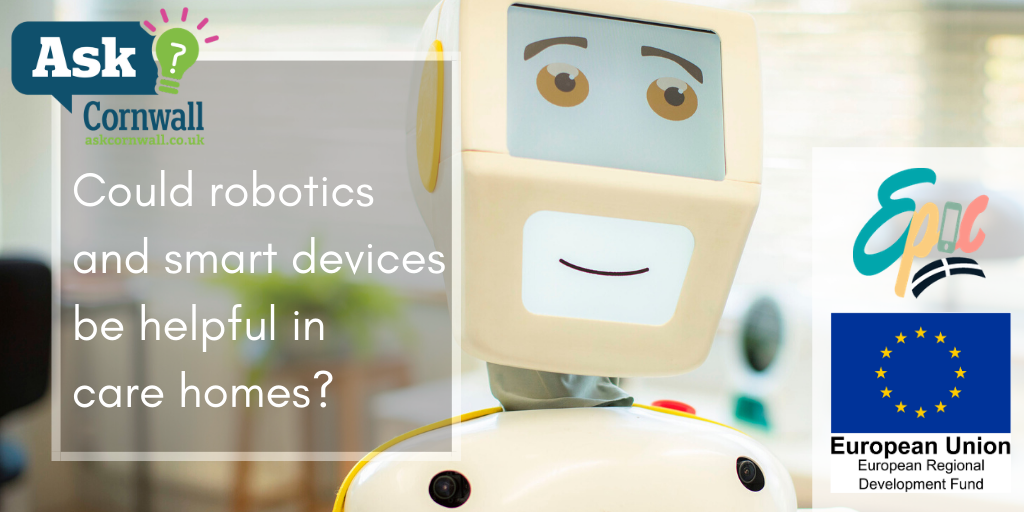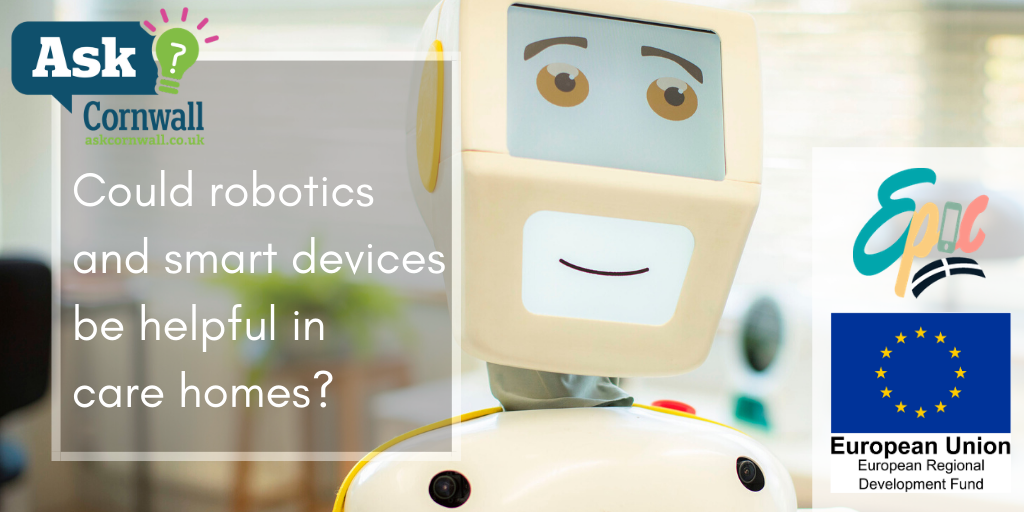 by Hannah Bradwell, EPIC Research Associate
In July, we held an online event to discuss the use of robotics and smart devices in care homes. The webinar was structured around three sections:
1) The robotics for care market
2) Identified challenges within the sector with possible robotics solutions – inspiration for new developments
3) The role of EPIC in supporting development of solutions.
1) Robotics for care – important and internationally scalable market
We discussed the importance of developing robotics for the care market and the potential for robots of this kind. Speakers shared their experiences of using humanoids, telepresence and robot pets in care homes and supported living settings, with speakers from Ireland and Sweden highlighting the scalability of robotic developments in this sector.
Rob Parkes of Service Robotics Limited shared interesting potential for the Genie robot to support with cognitive tasks, stimulation, memory and reminiscence therapy, further to facilitating telepresence.
Sofia Thunberg of Linköping University shared her experience of researching with robot cats and dogs, finding that care home residents who hadn't spoken for years began speaking again. We also discussed how here at the University of Plymouth, we have seen robot pets improve wellbeing for care home residents, with interesting results around de-escalating emotional situations, reducing agitation and depression.
Wei Qi Koh of the National University of Ireland shared her real-world experience of the use of social robots, including the potential for social robots to aid with the low ratio of care staff to care receivers in residential care settings. Wei also highlighted a key issue for currently available robots, being than many are unaffordable for purchase by care facilities, being too technologically advanced and expensive for real-world use.
We also heard about the use of humanoid robots to lead exercise classes and provide entertainment at a dementia day care center in Cornwall, and the use of telepresence to support health and care service delivery and reduce loneliness.
2) Our previous research to identify challenges faced within the sector with possible robotic solutions – inspiration for new robotic developments
In 2017, at the start of the EPIC project we held several workshops across Cornwall, with 223 attendees. Their backgrounds varied and included many stakeholders within health and social care; professionals, service users, students and businesses of relevant disciplines.
At the workshops, existing technology with potential applications in the care sector were available for the attendees to interact with, to inform later discussion on their thoughts on challenges being faced in health and social care environments.
163 challenges were identified and analysed by our team, with 87 identified as possibly suited to a robotic solution. The challenges most suitable for innovation within care involve support with eating, freeing up staff time, support with cleaning and prompts and reminders for medication or hydration.
At our recent online session, we wanted to identify which potential solutions attendees thought were a priority; through polling we identified that that the top two results were robots to support wellbeing, mood, loneliness and agitation and secondly, robots to provide monitoring.
We then asked attendees which areas they thought would have the most feasible robotic solutions, which were social support and monitoring uses.
From this opinion polling, as well as our previous research we can surmise that robots developed either as social companions for wellbeing or as tools to assist in monitoring are both important and feasible technological developments for care environments.
3) The support EPIC could offer to Cornish SME's interested in developing robotics for care
EPIC can support eligible startups, Small and Medium Enterprises (SMEs) and social enterprises to   explore the development of robotic solutions for the care sector.
In its first phase (2017-2020) the EPIC project supported several robotics SMEs to develop and trial robots for the care sector, one example is Robotriks and the team are keen to support even more  developments in Cornwall and the Isles of Scilly, particularly startups.
We can support a range of businesses based in the region, perhaps you are an established business with an interest in pivoting your product to the health and social care market? Perhaps you already have an eHealth product you would like to further develop or trial? Or perhaps you are an individual or student interested in establishing a new startup business?
The support is entirely bespoke for each business and could include access to funding through our challenge fund, the opportunity to be linked to a University of Plymouth student to support innovations through partly funded internships, academic support from the EPIC team to evaluate ideas or facilitate co design processes and piloting.
If you have a bright idea in the area of robotics for care, why not get in touch with the EPIC project to discuss further? To discuss these ideas further, please do email myself at hannah.bradwell@plymouth.ac.uk, or for further information on our business support, contact our Business Engagement Manager matt.silver@plymouth.ac.uk.
If you would like to watch the session in its entirety, please visit https://plymouth.zoom.us/rec/share/u_JZMPbo01tLedb14RvVdKkuGN3haaa81nMarvVfy0elo24CtHSIcmHSwX3HX4Tg?startTime=1595508486000