The tourism and travel industry already plays a major role in Britain's economy. Predicted to reach a value of over £257billion by 2025*, it continues to grow rapidly with no sign of slowing. The industry is also changing, disrupted by new technologies and market behaviours. It is crucial that the industry continues to develop resources and invest in people with the right skills to meet these new challenges (ABTA 2017).
Two of our Stage 2 International tourism students sat on a panel at the ABTA – Future Talent in the Travel Industry event. This conference took place in London on 27 June 2017.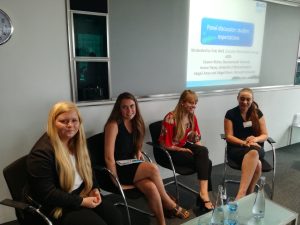 This conference bought together ABTA's academic and industry partners to discuss employability in the travel industry. Our second year students Abigail Ames and Abigail Rivers took part in a panel discussion, alongside two other students from Bournemouth University and Wolverhampton University in order to discuss student expectations of employment post-graduation.  They were asked by industry partners to identify what should be in place for graduates coming out of education, what they are looking for from future employers and what companies are appealing to them.
Useful links: https://abta.com/conferences-and-events/abta/future-talent-in-the-travel-industry-london-june-2017