How to identify a secure site
Being able to identify a secure site is a very useful tool to have when browsing or shopping on the internet. In this small article we will go over what you can use to identify a secure site before using it. As you are unlikely to want to do online shopping on an unsecure site.
What are the key things to look out for?
So what are the key things to look out for when browsing the web and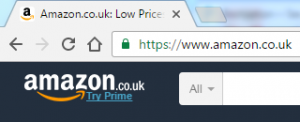 doing a bit of shopping? The most important thing to keep an eye out for is the green padlock and "HTTPS" instead of the regular "HTTP" in the address bar. The picture on the right shows the green padlock and "HTTPS" on a chrome browser doing some shopping on the popular site Amazon.co.uk. This means that the communications between the browser and Amazon.co.uk are secure. This gives me the green light to go login and enter my bank details to start shopping.

You can also click on the green padlock to get a few more details on the site and the security related to it, and the permissions that are given to that site. These permissions can be customised to your needs. Further information on certificates and more detail into how sites secure themselves and how you can spot one, check out the links below.
Things you should avoid
Now that you know how to spot a secure site, you can now use this to identify sites that you dont want to put your details into. Lets say that you went to Amazon.co.uk and you checked the address bar and there was no green padlock and instead of "HTTPS" it was "HTTP", its likely that its a fake site or the site itself has been compromised. You should always avoid sites that have unencrypted login sites as its a sign that they arent as secure as they should be.
Further information
Tips on spotting malicious sites