On the 6th of August 2021, UKRI published its new Open Access policy for research publications which acknowledge funding from any of UKRI's councils.
Why is the policy being updated?
UKRI is a member of cOAlition S, the group of funding organisations behind Plan S.
Plan S, which commenced on 1 January 2021, is an initiative for open access publishing intended to accelerate the movement towards openness in academic research. The plan centres on ten key principles, which the funding organisations that comprise cOAlition S (including UKRI) are committed to aligning their OA policies with.
UKRI's announcement follows that of the Wellcome Trust, another member of cOAlition S. The Wellcome Trust's new OA policy commenced on 1 January 2021 and is similarly aligned with the Plan S principles.
Find out more about Plan S in our guidance on Plan S and funder policies.
When will the new policy apply?
The new OA policy will apply to research articles submitted for publication on or after 1 April 2022. For research articles submitted before this date, current OA policy still applies.
The new policy will also encompass long-form publications, such as monographs, published on or after 1 January 2024.
For more information on current UKRI OA policies, visit our current funder policy guidance.
What's changing?
Journal articles
Articles must be made Open Access immediately upon publication. This differs from the current policy which allows an embargo period to be applied to manuscripts deposited in a repository such as PEARL. Under the new policy, no such embargos are permitted. You can find out more about how to comply with this change below.
UKRI will continue to fund Open Access costs for journal articles, but will now only do so for fully Open Access journals.
By default, a CC BY license must be applied to open access articles, although in some cases a CC BY ND license may be permitted. (You can find out more about Creative Commons licenses in our guidance on author copyright and articles.)
Researchers must include a Data Access Statement with their article providing information on how underlying research materials such as data or software can be accessed, if this is applicable. This must be provided even when an article has no data associated with it, or the data are not accessible.
Researchers must include text provided by UKRI in their manuscript submission which enables them to retain the copyright to their Accepted Manuscript.
Books and book chapters
While the current UKRI policy does not encompass long-form publications, the new OA policy includes monographs, book chapters and edited collections. Details of which outputs are within scope can be found in the new OA policy.
In-scope long-form publications must be made Open Access within 12 months of publication. You can find out more about how researchers will be able to comply with this policy below.
A CC BY license will be required for long-form publications, with some permissible exceptions. Third-party materials (e.g. images, photographs, or maps) which are subject to a more restrictive license may be included.
How will I make sure my research articles are compliant?
Both Gold open access (i.e. an output for which the published version is fully open) or Green open access (i.e. an output for which the published version is behind a paywall, but an open access version is deposited in a repository such as PEARL) are compliant with UKRI's policy, provided that open access is not delayed by an embargo.
There are therefore three routes to complying with UKRI's new policy when publishing a journal article:
Publish in a fully Open Access journal. UKRI will continue to fund Article Processing Charges (APCs) for this type of journal.
Publish in any journal for which the University of Plymouth has a transformative ('Read & Publish') agreement in place. You can find out more about transformative agreements here. 
Publish in a subscription journal and make the Accepted Manuscript open without embargo. Since many publishers stipulate embargo periods for Accepted Manuscripts, UKRI's new policy requires that authors attach the following text to any manuscript submissions:
'For the purpose of open access, the author has applied a Creative Commons Attribution (CC BY) licence (where permitted by UKRI, 'Open Government Licence' or 'Creative Commons Attribution No-derivatives (CC BY-ND) licence may be stated instead) to any Author Accepted Manuscript version arising'
The intention of applying this text is to allow the author to retain copyright to the Accepted Manuscript, thereby circumventing the publisher's embargo policy, since the publisher cannot mandate an embargo for a version of the output which they do not own. This strategy for achieving immediate open access is known as the 'Rights Retention Strategy'.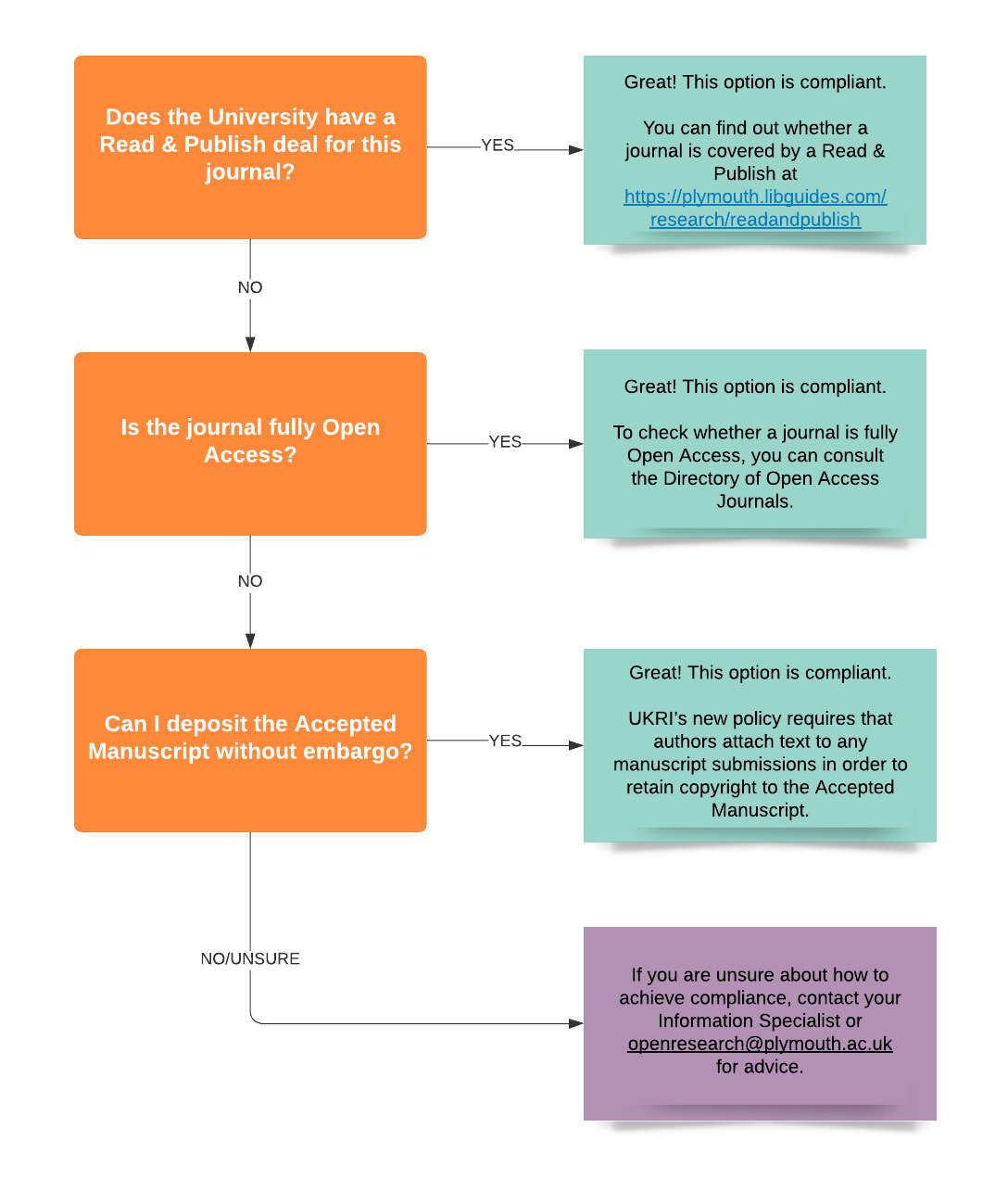 How do I make a book or book chapter open access?
UKRI's policy on long-form publications won't be implemented until January 2024, and much of the guidance on this part of the policy has yet to be released.
UKRI have indicated that they will provide funding to support Open Access costs associated with long-form output publication (see UKRI's 'Explanation of Policy Changes'); more information will be released on this in due course.
Open access publication for book chapters is already well supported, as many publishers permit the deposit of single chapters in institutional repositories. Researchers can visit our guidance on open access book chapters to find more information on this.
Although the process of achieving open access for books is not yet as simple as it is for journal articles, support for fully open access books is on the rise. Projects like COPIM are working towards building infrastructure for open access book publishing, and Jisc are collaborating with publishers to agree upon publication models.
You can find out more about the various existing models for open access books, how to find open access book publishers, and the benefits of publishing an open access book in our guidance on open access books. OAPEN's OA Books Toolkit is another helpful resource for authors to better understand open access book publishing.
How to prepare for policy implementation
Below are some of the ways in which researchers can ensure they are prepared for the implementation of UKRI's new Open Access policy.