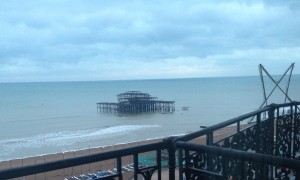 The UCISA Corporate Information Systems Group (CISG) held its annual conference in Brighton on November 20-22. Around 200 delegates from Universities from across the UK gathered at the Grand Hotel to both listen and participate. I've attached a more detailed description of the presentations (in fairly raw note form) to this post but here are a few thoughts on the prevalent themes that emerged during the event:
Big data – conventionally translated into learning analytics in the Higher Education context and the subject of a basic pitch from Tribal for software product (Student Insight) but was also linked by Andrew Carr of Bull to a wider view of Unversities as drivers for innovation.

CRM – has been subject of numerous presentations in recent years but is only now starting to take hold. A presentation from the LSE identified typical CRM components but had little fresh to say.

Cloud computing and new models for service delivery (including organisational structure) covered by Tim Marshall from JISC and discussed in more detail in group discussions,

Social business and collaboration – espoused as a headline by IBM but also appearing within the content of other presentations.

Mobile device usage in teaching and learning – with some illumination on the associated cultural journey at Abeline Christian University.

Enterprise architecture – the EA discussion hinged around cases (at Bristol and Imperial) based on data/SOA led programmes. This also emerged in the sector wide review of the information landscape being conducted by HEDIIP (with the backing of HESA)
But if there was an overarching theme it was around the challenges of culture change. This was variously posed around the need for innovation, an improved attitude to risk, greater agility and set against the conservatism of the HE sector to date and in relation to the drive towards improved governance, rigour and a more business led approach. For me the highlights were provided by Jerry Pennell (now IT Director at Manchester University) on his experiences of leading IT for the 2012 Olympics (as CIO of LOCOG), James Woudhuysen on the drivers for IT innovation and Charles Leadbeater on how higher education needs to set itself up to avoid the pitfalls of "reductive commoditisation" with excellent IT underpinning and immersive educational experience.