A project to enhance the internet connections across Plymouth University's campus has earned recognition from judges at a national awards ceremony.
The major upgrade, part of a programme of investment in state-of-the-art technology, included an overhaul of the wired and wireless networks in more than 1,700 student rooms and other communal areas.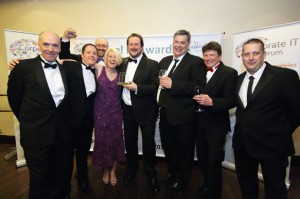 The project has now been named runner-up in the Best Use of Cloud category in the Real IT Awards, which aim to recognise outstanding IT innovation across the private and public sector.
Plymouth was the only educational institution on the awards shortlist, with other nominees including multi-national giants such as Volkswagen, E.ON, GlaxoSmithKline and Pepsi, as well as Government departments and public sector bodies.
Adrian Hollister, Head of Strategy and Architecture in Plymouth University's Technology and Information Services Directorate, said: "When we saw the calibre of the other nominees, we realised that just being on the awards shortlist was a major achievement in itself, and a vindication of all our hard work on this project. Our students expect to be able to access internet services wherever they are on campus, and it is vital we do not rest on our laurels and remain in a position to meet those expectations. Enabling them to stay connected is a key part of their academic and personal development."
The four-week upgrade was carried out by leading technology service company CAE, and involved providing a 600Mbit Wireless N service and a 100Mbit wired service, giving students full access to the University's suite of online resources on all their desktop, laptop, tablet or mobile devices. It enables families and friends to access the internet anywhere on campus during visits.
The upgraded service also includes a commitment to enhancing student employability by recruiting ambassadors for the service, who will become the first point of contact and providing out of hours help if required.
John Wright, the University's Chief Information Officer, added: "This praise is due recognition for our outstanding technology team, who are consistently pushing the boundaries to keep the University ahead of the game. Through constant innovation, we have created an environment where students and staff can stay connected, and the new high performance wireless network has enabled us to achieve our ambition of supporting learning and leisure for all."
ENDS
Notes to Editors
The wireless upgrade involved the installation of 400 sector-leading Cisco Meraki wireless access points in halls, which have fast data throughput of 600 megabits per second. These devices are connected to the network using 12. 5km of high-tech cabling – CAT7 is the latest standard of cabling and is designed to work the next generation of technology and last around 20 years. An additional 8 Cisco Meraki wireless access points have been installed throughout the student village to provide students with WiFi access in popular outdoor areas including North Hill.
For more information about this press release, contact Plymouth University Press & PR Officer Alan Williams on 01752 588004 or email alan.williams@plymouth.ac.uk.
About Plymouth University
Consistently ranked as one of the leading universities in the UK, and awarded a Queen's Anniversary Prize for Higher and Further Education in 2012, Plymouth has a strong record of excellence, enterprise and innovation across its teaching and research activities. Distinguished by its long-term engagement with business and the community, the University enjoys outstanding links with employers and plays a key role in civic and regional leadership. It is the only university in the world to have been awarded the Social Enterprise Mark in recognition of its work in support of the sector.
With around 30,000 students, including those studying higher education at its partner colleges throughout the South West, the University is one of largest in the UK. It enjoys a high rate of graduate employment and has recently invested more than £150 million in its estate and facilities to enhance the student experience and support world-class research.
Plymouth has embedded sustainability across its operations, and is the overall best performing university in the People & Planet Green League. It is the first modern university to found a medical and dental school – the Plymouth University Peninsula Schools of Medicine and Dentistry – and is the leading provider of Higher Education in Cornwall. For more information, please visit www.plymouth.ac.uk