The university mail systems are constantly bombarded by Spam and Phishing (aimed at emails discovering user account details by clicking constructed links) in emails, the majority of these messages are either deleted or marked as such before being sent to the recipients mailbox.
Phishing emails are getting more and more clever, either by using university details or strategy information that is publicly available.
Please refer to the messages below, that have been received by university staff recently:

The link within the email (Faculty and Staff Portal) will direct any traffic to the following location: http://owa-plymouth-ac-uk-faculty.jigsy.com/ this can be discovered by hovering over the link itself.  As you can see this is not a Plymouth University domain (the ends in ".plymouth.ac.uk"), but it is aimed to confuse individuals.
Further down in the email, there are references to the Charles Seale-Hayne Library and Babbage Building, including the opening times for computing resources as well as official university tools for finding 'Open Access' computers and their availability.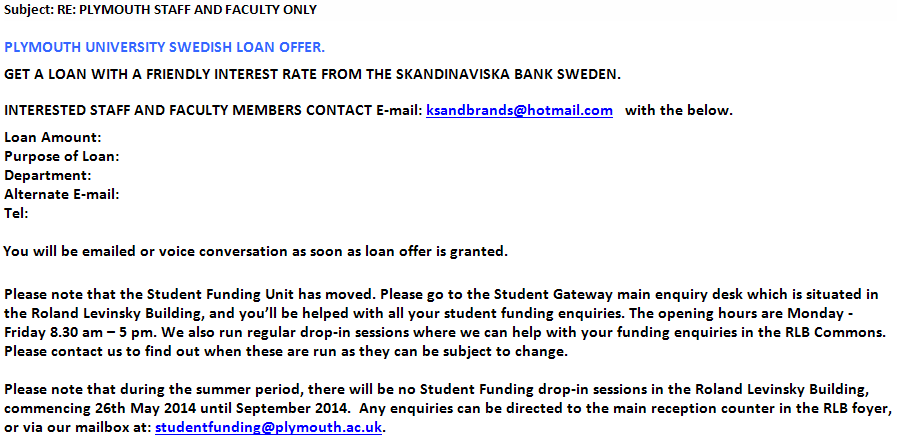 The same principles apply to this communication as the first example, would you be contacted by an entity offering an overseas service, apparently approved by a senior member of staff that also goes on to talk about Student Funding (taken directly from the university website)?  The answer is simply no.  The phisher is using freely available information and appending it to a standard phishing email.
SonicWall have a really useful Phishing IQ test to determine how likely you are to fall foul of these attacks, have a look and see what score your receive?
If you receive emails like this or are unsure whether an email is from a valid source or not, please contact the Service Desk (support@plymouth.ac.uk) for assistance.