Introduction
Enterprise Architecture Principles are high level statements of the fundamental values that guide Business Information Management, Information Technology (IT) decision-making and activities, and are the foundation for both business and IT architectures, standards, and policy development.
These principles are general rules and guidelines that may be subject to adjustments as the enterprise refocuses its objectives and mission. However, they are intended to be enduring and not prone to frequent amendments.
They inform and support the way in which and Plymouth University sets about fulfilling its mission.
Principles are established on all Enterprise Architecture Domains:
Business Principles – provide a basis for decision making throughout the business
Decisions and business cases are strengthened by compliance with these principles. Where there are conflicts of interest between, for example, two solution development projects, then these principles should guide the decision making. If proposed changes do not comply with these principles then the changes should be realigned with the principles.
Figure 1 below, shows the level of detail provided by each element of the governance structure on the IT lifecycle and indicates that the architectural principles which follow have a fairly major influence on how IT implementations are designed, developed and run within Plymouth University going forward.  It can be seen that these principles should not be used independently of other guiding documents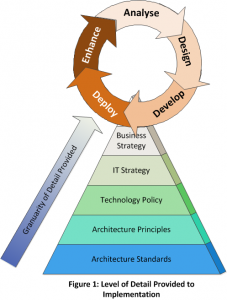 such as technology policy documents and architectural standards and must be aligned with IT and business strategy.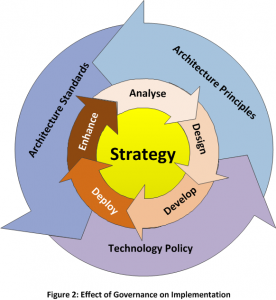 Figure 2 above, shows how these architectural principles and the other operational governance documents influence all stages of the IT lifecycle and should be aligned with to ensure the benefits of an architectural approach to system and service design are realised as real benefits to the University.
Author:
Craig Douglas
Date:
24/10/2014
Version:
2.0
Document Security Level:
PUBLIC
Document Approvals:
Technical Architecture Group

Enterprise Architecture Practice

Enterprise Architecture Board

IT Director

February 2014

September 2014

22/09/2014

23/10/2014

Review Date:
October 2015