I've been interested in the role of the media in communicating environmental issues since the 1980s when I did my PhD. A lot has changed since then! Those early interviews that I carried out with environmental reporters working on national daily newspapers and BBC and ITN broadcasters provided a fascinating glimpse into a world that was rapidly changing. Mrs Thatcher's 'green speech' to the Royal Society in September 1988 had a profound effect on the media agenda, though it was relatively short lived as the more immediate concerns of the Gulf War and economic recession took over by the early 1990s. Yet my research showed how over the years the media strategies of many environmental NGOs grew more and more sophisticated, environmentalism became more institutionalized, and at certain points major news stories on environmental issues broke through and dominated the headlines once again, often off the back of celebrity interventions. My first book, Media, Culture and the Environment (Routledge, 1997), was one of the earliest studies to examine the rise of environmental journalism. It uncovered a number of factors which explain why particular causes, such as the current campaign against singe use plastics, leap to prominence whilst others fail to attract attention. A later book Nanotechnology, Risk and Communication (Palgrave, 2009) explored why some emerging technologies gain more positive coverage than others.
The media landscape has been transformed over recent decades and social media now play a key role in communicating environmental issues. The United Downs Deep Geothermal Power Project, currently underway in Cornwall, provides a great opportunity to study how media (online and offline) are framing this low carbon technology. It is exciting to be involved in one of the first projects of its kind and to examine how media messages about geothermal energy may inform public perceptions.
---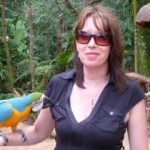 Professor Alison Anderson
Professor in Sociology
School of Law, Criminology and Government (Faculty of Business)
---

The United Downs Deep Geothermal Power Project is a partnership of organisations exploring if geothermal power is a viable energy resource for the UK. It is part-funded by the European Regional Development Fund and Cornwall Council.