Have you ever been given an image with a bucket load of text on it and had to transcript it to readable text, not the most fun for a creative to do. But now you need worry no longer..
Here's what you do:
Open Microsoft onenote, go to "insert" chose "picture" browse to your image file and click to insert it.
OK so concentrate cos this is gona blow your mind…
Right click the image and choose "copy text from image" then right click and paste wherever you want the text… tada!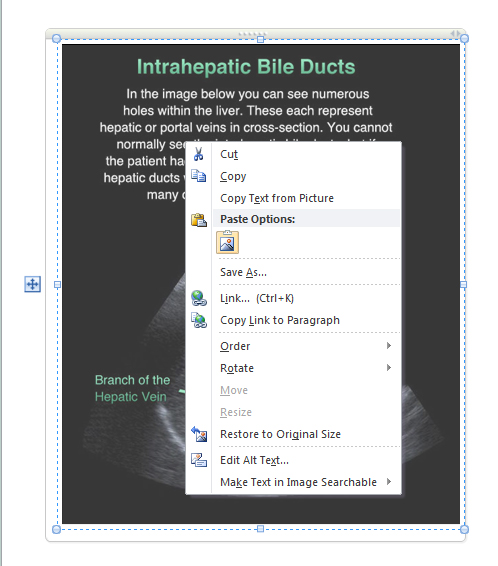 Intrahepatic Bile Ducts
In the image below you can see numerous
holes within the liver. These each represent
hepatic or portal veins in cross-section. You cannot
normally see the intrahepatic bile ducts, but if
the patient had a blockage of their CBD, the intra
hepatic ducts would dilate, and you would see too
many of these tubes within the liver
n –
. '—': . –'— .. -.
– – :-— –
'.' Branch of the
____ rtat Vei
— f
-. . .: .—.
..–
Branch of the
Hepatic Vein – –
[
.. . .-. A.
.. – – -.
.—- ..