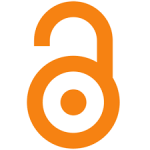 This is the first of a series of blogs that will be posted in celebration of Open Access Week 2021. Keep an eye out for posts throughout the week or follow our Twitter account, @OpenResPlym, to keep up to date with OA Week events.
A transformative agreement, also known as a "read and publish" agreement, is a contract negotiated between a specific research institution and a publisher. It is a transformation of the business model of publication in which Article Processing Charges (APCs) are encompassed within the subscription fees that the research institution pays to the publisher. Over a number of years, this enables the shift from being subscription-based reading to open access publishing.
How do transformative agreements work?
The most common way of achieving Gold open access is through the payment of an APC, or an 'Article Processing Charge'. This is a fee which the publisher charges to make the article open. In a fully open access journal, the payment of an APC may be mandatory for publication, while subscription journals (which are paywalled by default) may offer the option of paying an APC to publish a specific article openly. The latter scenario is commonly referred to as the 'hybrid' model of open access publishing, where the publisher receives income both from institutional subscriptions and from the payment of APCs for open access; this is sometimes referred to as the publisher 'double dipping'!
Under the standard publication model, an institutional subscription allows its members to 'read' a publisher's journal content, while APCs are paid to publish articles openly. The former charge is usually paid by a research institution, while the latter may be paid by the author's research grant funds, a block grant, institutional or departmental funding, authors' personal funds, or some other source.
A transformative agreement is an agreement formed between a research institution and a publisher. The agreements combine the two kinds of payments detailed above, so that the institutional subscription allows researchers to both 'read' a publisher's content and to 'publish' open access in their journals. This is why transformative agreements are often referred to as 'Read & Publish' agreements!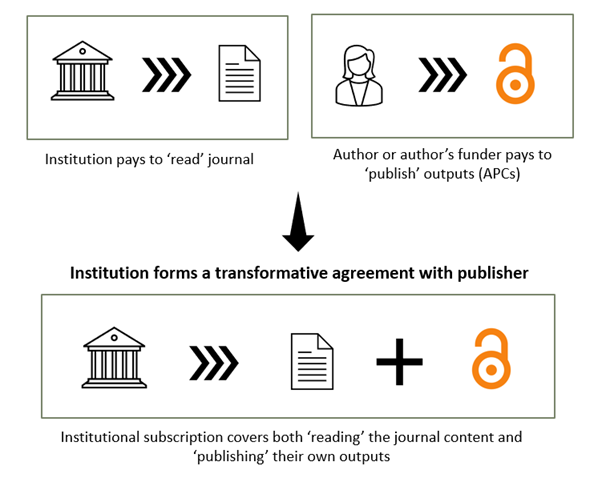 The practical effect of an institution entering into a transformative agreement with a publisher, then, is that members of that institution can publish open access content in that publisher's journals at no extra cost to themselves. Most agreements formed with the publisher will cover publishing fees for fully open access journals in addition to the read and publish costs of 'hybrid' journals. There may be other limitations which vary by agreement, such as what kind of publications are covered, or whether unfunded researchers qualify (see below).
What has given rise to the development of these agreements?
Plan S is an international initiative for open access publishing, launched by a group of funders called 'cOAlition S'. This initiative has played a huge role in bringing transformative agreements to the forefront of discussion and accelerating their development by putting pressure on publishers to adapt their business models. You can find out more about Plan S in our guidance on Plan S and funder policies.
Although funder policies are a significant driving force for transformative agreements, transformative deals were not devised with the intention of being exclusively accessible to funded researchers. The overall aim, rather, is to accelerate the movement towards openness in research across the board. The majority of transformative agreements at the University of Plymouth are open to any member of the University, with a few exceptions which are detailed in our read & publish guidance.
What's in a name?
These agreements are 'transformative' in that they are intended as a temporary, transitional pathway for the publisher.
Over a pre-established timeframe (usually a number of years), transformative agreements are designed to move the publisher's underlying business model away from the subscription model and towards a fully open access one, where publishers are remunerated for open access publishing services.
What transformative agreements do we have at the University of Plymouth?
The information below is correct at the time of writing. Please consult our read & publish guidance for the latest information.
At present, the University of Plymouth has Read & Publish deals with the following publishers:
All of the above deals have the following eligibility criteria in common:
The corresponding author must have a University of Plymouth affiliation
The qualifying author must submit using their University of Plymouth email address
The following criteria may vary according to the agreement:
Whether authors not funded by UKRI/Wellcome can use the deal
What type of outputs can be published through the deal
What journals are covered – some publishers may exclude certain journals.
Visit our Read & Publish agreements guidance to check your eligibility for these deals, read about deals currently in negotiation, and keep up to date with any newly added deals.