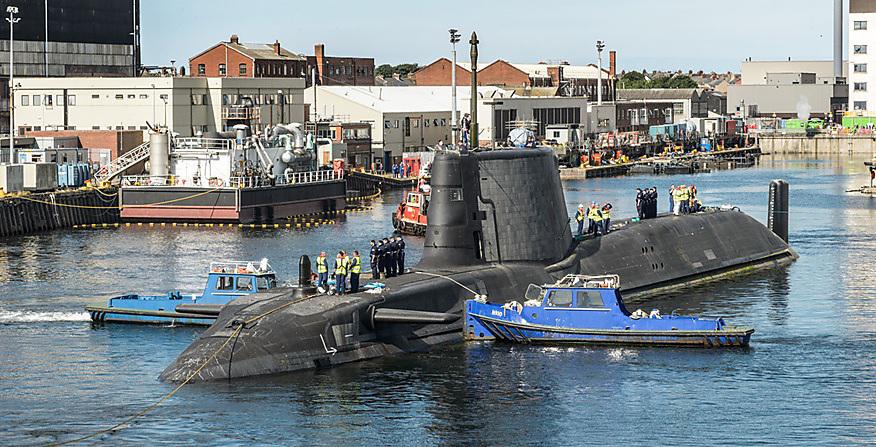 Nearly ten and a half years after the first steel was cut on her, HMS Artful (S-121) departed Barrow to begin her maiden trials – 15 months after she was rolled out of the cavernous construction hall at BAE Systems yard.
Commanding Officer Commander Scott Bower guided the third of the Silent Service's Astute-class boats out of Devonshire Dock, past the raised span of the Michaelson Road bridge, down the dog-leg of Buccleuch Dock, into the Walney Channel and finally out into the open waters of the Irish Sea.
There she's testing various systems before making her debut in her future home of Faslane, already the base of her older sisters HMS Astute and Ambush.
"The crew, alongside the workers at BAE Systems, have done a sterling job in generating more than a million parts into a submarine," said Cdr Bower of his boat which has been compared in terms of complexity with the Space Shuttle.
"Artful's capabilities are extraordinary – she represents the next step in our country's history of operating submarines.
"I'm now looking forward to proving what she is capable of during our sea trials – and continuing our progress towards our first operational mission."
In the 15 months since the boat entered the water, Artful has undergone numerous tests of her propulsion and power systems – notably her nuclear reactor – and carried out a partial dive in the dock (it's wide and long enough to accommodate an A-boat, but at 'only' 82ft waters are not deep enough to submerge the Astutes entirely).
Like the boat, the 100-strong crew have gone through similarly-exhaustive instruction and practice, culminating in an assessment by the team from the Flag Officer Sea Training just before Artful put to sea.
Thanks to the lessons learned building her sisters, the boat departed Barrow in a considerably more advanced state – which will speed up the time it will take for her to complete trials and training and beginning front-line patrols.
Tony Johns, managing director of BAE Systems Submarines, said seeing the 97-metre boat leave was the crowning moment of "a huge amount of hard work from everyone at BAE, our partners and the hundreds of businesses in our supply chain network.
"Everyone involved in the Astute programme should feel immensely proud of their achievements as the third in class Astute submarine reaches this significant milestone."