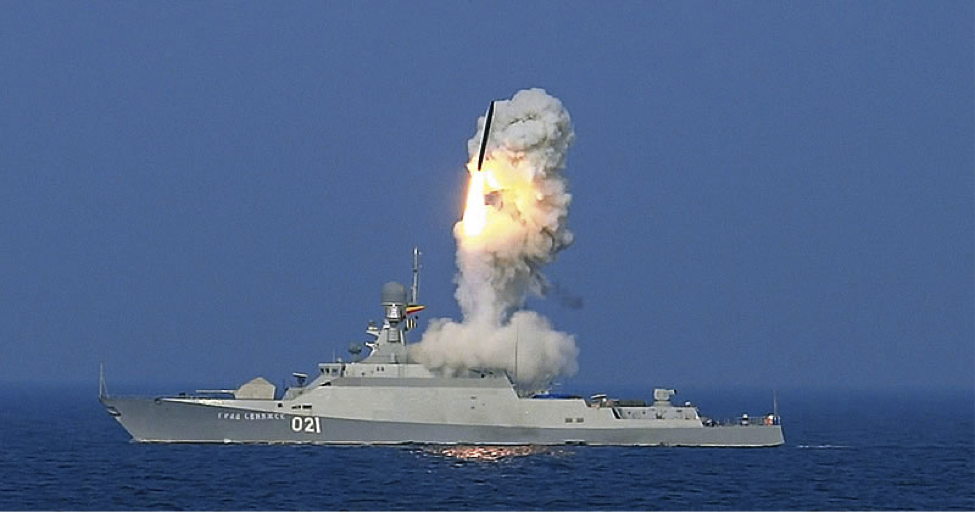 According to Radio Free Europe, there has been a surprise attack by Russia against targets in Syria, using sea-launched cruise missiles.
The Russian Minister of Defence, Sergei Shoigu, described the incident while speaking in Moscow on October the 7th during a televised meeting with President Vladimir Putin. He said that four boats of the Caspian Flotilla, launched 26 cruise missiles against targets in western Syria, that the missiles all hit their targets and that the mission was successful.
This the first time Russia has launched cruise missiles from a warship platform against land targets in combat.
The Russian Caspian Sea Flotilla has two new Gepard-class frigates, Tatarstan and Dagestan, six Buyan-class corvettes (Project 21631), Astrakhan, Volgodonsk, Mahachkala, Grad Sviyazhsk, Uglich, Veliki Ustyug, three Buyan M-class corvettes, Grad Sviyazhsk, Uglich, Veliky Ustyug and one Tarantul-class corvette, the MAK-160.
According to the available information, the frigate Dagestan, the corvettes Grad Sviyazhsk, Uglich and Veliki Ustyug are equipped with 2 × 4 UKSK Vertical Launch System cells for eight 3M-14T "Kalibr" missiles (NATO: SS-N-30A).
The 3M-14T "Kalibr" is a Glonass satellite/inertial guidance/ARGS-14E active radar seeker, land-attack, cruise missile, which is deployed by the Russian Navy. Its range is between 1,500-2,600 km. According to the Russian Minister of Defence, the missiles were fired from the Caspian Sea (most probably the south part of the Caspian Sea, close to the shores of Iran).
General Sergei Shoigu did not say which route the missiles had taken to reach Syria. Most probably the 26 missiles crossed Iranian and Iraqi air space with the approval of their governments and then hit their targets in Syria.
This is the first time Russia has used these newly developed cruise missiles in combat. The 3M-14T "Kalibr" were brought into service last year, and they caused concern to western defence analysts, since they are considered to be one of the most accurate long-range and lethal weapons in the Russian arsenal.
Image Sourced: "Национальная оборона" №3/2014