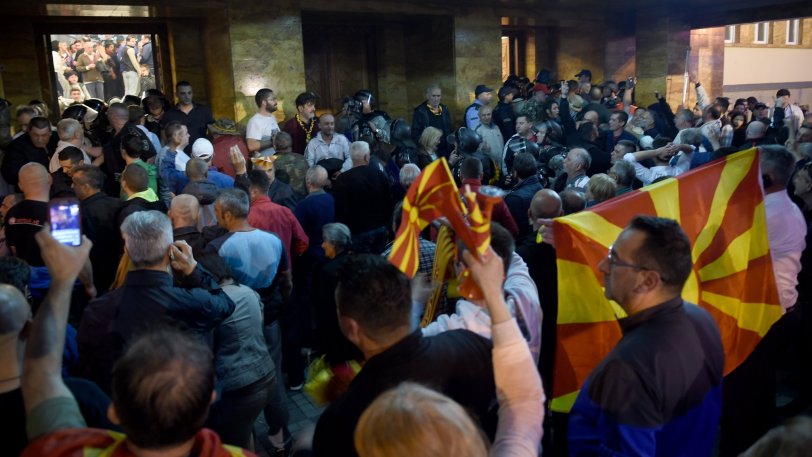 Sourced : Inserbia
Dozens of demonstrators fought their way through a police cordon and stormed the parliament of the Former Yugoslav Republic of Macedonia (FYROM) to protest the election of an ethnic Albanian president of the parliament on Thursday as political tension in the country swells.
FYROM has been without a government since December when the coalition led by the conservative VMRO-DPMNE party lost its governing majority. Despite coming second in December's general election, the Social Democrats (SDSM) party has proposed a minority coalition government with parties representing FYROM's Albanian minority.
As a condition of their participation in the government, the ethnic Albanian parties are insisting on a seven-point platform that includes a demand to make Albanian an official language in FYROM
The protesters were voicing their disapproval of the coalition electing Talat Xhaferi, a former defence minister from the ethnic Albanian DUI party, as president of the parliament.
A stream of protesters carrying flags of their country forced their way past police and into the parliament in Skopje after the vote. The demonstrators confronted SDSM leader Zoran Zaev who was later pictured bleeding from his head. The Financial Times is citing an adviser to Zaev in reporting that his injuries were superficial. The adviser could not say when Zaev would be able to leave the building.
Police fired stun grenades to disperse protesters outside parliament while clearing the way for the evacuation of lawmakers still in the building.
"In an attempt to take under control of the situation inside and outside the parliament, we have ordered police to use all measures," Agim Nuhiu, the interim government's Interior Minister said in a televised interview. "We are using stun grenades in order to allow the evacuation of the MPs."
According to reports 10 MP's and 10 Police officers were wounded inside the Parliament.
The outgoing government has accused Zaev of betraying FYROM by promising greater language rights to the Albanian minority.
The President of FYROM, Gjorge Ivanov, has refused to allow SDSM MPs to elect a speaker and form a government for more than four months. VMRO politicians have called for fresh elections to end the political deadlock.